Beauty & Self
Books & Music
Career
Computers
Education
Family
Food & Wine
Health & Fitness
Hobbies & Crafts
Home & Garden
Money
News & Politics
Relationships
Religion & Spirituality
Sports
Travel & Culture
TV & Movies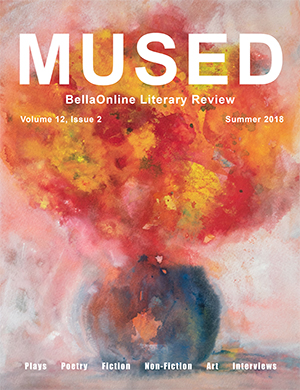 Our Summer Solstice issue celebrates all that is beautiful about this precious home we share. In poetry, words, and images we treasure the glittering reflection of moonlight on a lake. A rippling silent sea of grass. The elusive scent of roses. Rippled clouds in a blue sky. Delicate butterflies exploring blossoms. A brilliant rainbow.

Enjoy the Mused Spring Equinox 2018 Issue




Delphinus the Dolphin
Astronomy - Mona Evans, Editor

Delphinus (the Dolphin) sounds like one of the southern sea constellations invented by early European navigators. However it's an ancient northern constellation first catalogued by Ptolemy in the 2nd century. Small and made up of faint stars, its diamond is still easily visible in a clear dark sky.




Drop Earrings - Daniela Mendola
Tatting - Georgia Seitz, Editor

Daniela's earrings are so cute and easy to tat up. This pattern has but 2 rings and a chain. The earrings are beaded.




My Favorite Yarn Is No Longer Available!
Knitting - Korie Beth Brown, Ph.D., Editor

First, you cry. Then, you get crafty!




Yoga and Suicide
Yoga - Korie Beth Brown, Editor

Pain is inevitable, but yoga helps us with our suffering. How do we deal with the unimaginable? Yoga can once again be there for us.




Beauty Tips for Ethnic Skin
Ethnic Beauty - Juliette Samuel, Editor

We all know that Your skin color does not determine how beautiful you truly are. We also know that great looking skin takes lots of work. Here are a few tips for you.




Clear Energy With Aromatherapy
Fragrance - Juliette Samuel, Editor

Whether we're smudging ourselves or the rooms in our most frequented space, it's a good idea to clear the energy. Get more details.



| Google+ |

E D I T O R R E C O M M E N D E D


Low Carb Charts


A must have reference guide for any low carber. Keep the carb counts of fruits, veggies, meats, alcoholic drinks and more at your fingertips.


Low Carb - First Two Weeks


Get instant access to step by step instructions, handy tips to get you through the rough spots, background information on low carb dieting, and more.



Note: BellaOnline uses cookies to help provide a consistent user experience. Our advertisers may use cookies to help customize ads. Please contact us with any question about our cookie use.