Beauty & Self
Books & Music
Career
Computers
Education
Family
Food & Wine
Health & Fitness
Hobbies & Crafts
Home & Garden
Money
News & Politics
Relationships
Religion & Spirituality
Sports
Travel & Culture
TV & Movies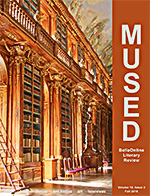 The autumn equinox, that balance point of light and dark, is closely tied to the moon. In China the Moon Festival happens around the autumn equinox, celebrating gratitude and the warmth of good friends and family. This year it was Sept 15th. Our last eclipse of 2016 was a penumbral lunar eclipse on Sept 16th. It fell in conjunction with the full harvest moon, also a symbol of thankfulness and appreciating those who care about you. The autumn equinox is a perfect time to add to those celebrations. It's a wonderful moment to treasure all we have and to share warmth with those who support us.

Autumn Equinox 2016 issue of Mused


Ghastly Green Ghoul Guts Recipe
Quick Cooking - Karen Hancock, Editor

If you're still looking for a perfect dish to serve at the annual Halloween BOO-ffet, this spicy, delicious shredded chicken filling with Mexican flavors is fabulous and can be served on all kinds of Halloween buns.




Top 5 Ways to Update Your Body Care Routine
Body Care - BB Lee, Editor

Think about those parts of the body that are typically ignored. It's about time to start giving those areas more personal care and attention.




Surprise Island - book review
Children's Books - Launa Stout, Editor

The Alden Family/Boxcar Children series continues with Surprise Island. The Alden children spend summer vacation on the family's private island.




Moons of the Solar System - Quiz
Astronomy - Mona Evans, Editor

There's no official definition of a moon, but we use it for objects that orbit planets, dwarf planets and even asteroids. Do you know the moons of the Solar System? Here's your chance to learn more.




Flying into Tennessee
Romantic Getaways - Marianne de Nazareth, Editor

A snap decision to go spend a month with Andrew & Annika in Tennessee




Everything Needs A Home
Cleaning - Tammy Judd, Editor

In order to cut down on the amount of clutter in your home you should make sure everything has a place. This makes cleaning easier and streamlines your efforts. Read on to find out what the 10 most important things to house!



| Google+ |

E D I T O R R E C O M M E N D E D
Spectorsoft EBlaster 6.0 Security and Monitor Soft


Installed in less than five minutes the eblaster software monitors the online activity of children. Providing email alerts to the designated email whenever a child receives or sends an email. Also, allows monitoring of chat rooms, key strokes, and instant messages. See who is talking to your child online.
Heart Strings - cozy mystery


She's certain she knows who the killer is, but will she be brave enough to confront the murderer for the scoop of a lifetime? This quirky cozy mystery is sure to keep you entertained and guessing to the last page.
Low Carb - First Two Weeks


Get instant access to step by step instructions, handy tips to get you through the rough spots, background information on low carb dieting, and more.