Beauty & Self
Books & Music
Career
Computers
Education
Family
Food & Wine
Health & Fitness
Hobbies & Crafts
Home & Garden
Money
News & Politics
Relationships
Religion & Spirituality
Sports
Travel & Culture
TV & Movies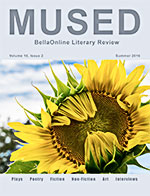 For many people, summertime is the perfect time to explore creativity. Plein air artists bring easels to gardens and beaches, showcasing nature's colors in oils, acrylics, and watercolors. Photographers ferret out a million sights to immortalize. Poets and writers stretch languidly beneath a shady oak tree, listening to the gentle buzz of insects, and constructing entire worlds out of the ether.

Enjoy the creativity of our community of artists - and then explore your own! We'd love to see your works for upcoming issues!

Summer Solstice 2016 issue of Mused


Enchiladas Verde Recipe
Quick Cooking - Karen Hancock, Editor

Overloaded with Zucchini? These luscious enchiladas are loaded with zucchini and garden vegetables, as well as chicken. The green sauce is easy to make, and the dish can be made up to 3 days ahead.




Fresh Plum Gateau Recipe
Desserts - Karen Hancock, Editor

This easy cake showcases any kind of ripe plums you happen to have on hand. Prepare for raves!




Firsts in Space – Quiz
Astronomy - Mona Evans, Editor

We walked on the Moon. Rovers explore Mars. The International Space Station has been continuously inhabited since 2000. We're in contact with the world and the cosmos via satellite. We take it for granted, but there had to be a first time for everything. How many of these space firsts do you know?




Fabric Dresses Up Small Storage Containers
Sewing - Cheryl Ellex, Editor

Ideal for seasonal decorating, functional and practical as a fabric scrap recycle undertaking, softly gather fabric and batting to pouf out and around a reusable storage container to provide a quick and easy cheery home decor or gift giving project.




5 Things You Want In Your Closet
Women's Fashion - LaTeisha Clément, Editor

Closet space is just as important in the housing search as the view. Ask your nearest realtor. Women rave about it all of the time. On that note, what's in your wardrobe is very important. Let's take a look at things we should be keeping. 5 Things You Want In Your Closet




Prismacolor Pencils - Review
Crafts for Kids - Launa Stout, Editor

Prismacolor pencils are expensive- but they are worth it. They make the quality of the experience absolutely wonderful, and they last a really long time!



| Google+ |

E D I T O R R E C O M M E N D E D
From Pain to Parenthood


Follow one woman´s incredible and heartfelt journey from the pain of miscarriages to the joy of becoming a parent through adoption. Filled with honest, raw emotions and helpful coping tips, "From Pain to Parenthood" promises to touch your life with a real story that shows the power of the human spirit and the beauty of a mother´s love.
Low Carb Charts


A must have reference guide for any low carber. Keep the carb counts of fruits, veggies, meats, alcoholic drinks and more at your fingertips.