Beauty & Self
Books & Music
Career
Computers
Education
Family
Food & Wine
Health & Fitness
Hobbies & Crafts
Home & Garden
Money
News & Politics
Relationships
Religion & Spirituality
Sports
Travel & Culture
TV & Movies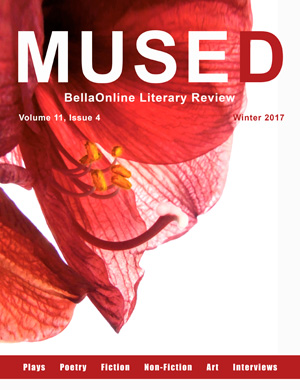 We all travel on this blue-green ball around our very own star each year, sliding a little closer, sliding a bit further away. The balance is critical. Too much closer and we'd roast. Too much further away and we'd freeze.

We should be aware of just how blessed we are that our Earth is "just right" - and do what we can to keep our world healthy. It's the only one we have.

Enjoy the Mused Winter Solstice 2017 Issue




Sarasota County's Legacy Trail
Florida - Georgiana Kurtz, Editor

Walk, bike, or skate along Sarasota County's Legacy Trail, an asphalt-paved rail trail that runs for 10.7 miles between Sarasota and Venice. Along its route you will pass through natural and historic areas.




Sabrina (1995)
Movie Mistakes - Isla Grey, Editor

The Larrabee brothers both have their eye on Sabrina when she returns from Paris. Try to find these movie mistakes in 1995's "Sabrina".




Medusa and Lemon Drop Ornamental Pepper
Landscaping - Connie Krochmal, Editor

Medusa and Lemon Drop ornamental peppers are outstanding varieties. Medusa is suitable for growing indoors.




IUI Success Helped By Uterine Scratch Procedure
Infertility - Hannah Calef, Editor

Uterine scratch biopsy improves the chances of pregnancy with IUI




Sewing and E-Patterns
Sewing - Cheryl Ellex, Editor

E-patterns or online sewing patterns are convenient for a home sewer, often offered free or low-cost. However, a small stack of standard size 8.5 by 11 inch computer printing paper, printing ink, a reliable home printer and much clear tape for assembling a printed e-pattern are cost considerations.




7 day Deep Clean : Bedrooms
Cleaning - Tammy Judd, Editor

Taking Seven days to deep clean your bedrooms can remind you, when you are done, just how much of a haven your bedroom can be for you.



| Google+ |

E D I T O R R E C O M M E N D E D
Simple Delicious Italian Recipes


Simple Delicious Italian Recipes. Authentic Italian recipes easy to follow and simple to prepare, written by Cinzia Aversa, Italian Food Editor at BellaOnline.com. A perfect gift idea for any Italian food lover.
Ordinary People as Monks and Mystics


This non-denominational book is appropriate for any religious path, and helps you to explore your spirituality whether you are more of a mystic or more of a monk. Both approaches are valid.
Building School Success with ADD


Finally, there is help for kids with ADD who hate school. This small book is filled with practical tips to make school life better for students with ADD! Use this book to make a positive start this year. Building School Success with ADD can make a difference.