Beauty & Self
Books & Music
Career
Computers
Education
Family
Food & Wine
Health & Fitness
Hobbies & Crafts
Home & Garden
Money
News & Politics
Relationships
Religion & Spirituality
Sports
Travel & Culture
TV & Movies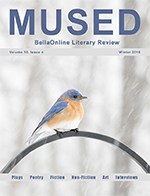 Sometimes it seems as if winter quotes make winter out to be a necessary evil which exists only for us to appreciate the subsequent warmth. Shelley: "If winter comes, can spring be far behind?" Shakespeare: "Now is the winter of our discontent made glorious summer by this sun of York." Hugo: "Laughter is the sun that drives winter from the human face."

But winter is far more than a down against which to compare the subsequent ups. Winter is a powerful, magical time. It is a season of strength. Of looking inward and finding focus. Bob Seger stated, "I write probably 80 percent of my stuff over the winter." Terri Guillemets reminds us, "The color of springtime is in the flowers; the color of winter is in the imagination." The Winter Solstice is a time to embrace the mysterious. The endless possibilities. The sense that we already have, within ourselves, boundless creativity and opportunity. We simply have to still ourselves and listen.

Winter is a powerful season. It gives us that space to look back and learn from our history. To look forward and envision what we wish to become. To be fully mindful of the present and be aware how each day has potential for us to speak out and impact the way our world proceeds. To move us toward peace, fulfillment, and an appreciation of what each of us has to offer.

Happy Winter Solstice.

Enjoy the Mused Winter Solstice 2016 Issue




To Forgive a Crime
Christian Living - Lynne Chapman, Editor

Do we forgive a guilty person even though there is no remorse?




Orzo Salad Recipe
Sandwiches - Connie Mistler Davidson, Editor

No need to take the walk of shame at a potluck meal with a store-bought dish; try making this salad, instead. Orzo salad takes less than 30 minutes to make, from start to finish. Pull together a few common ingredients, refrigerate it for 3 hours, and serve it proudly. Tasty! Try some soon!




Love Is
Marriage - Michelle Taylor, Editor

There is a verse in the Bible, 1 Corinthians 13:4-7, that gives a very good description of what love should be. It is helpful for the religious and non-religious alike. Read on to find out what love is.




Forcing Rhubarb
Landscaping - Connie Krochmal, Editor

Forced rhubarb was most popular in Victorian times. The forced stalks are a delectable treat.




Picking tamarind in Bangalore, India
Romantic Getaways - Marianne de Nazareth, Editor

This is the season when fresh tamarind pods fall off the trees & can be collected to make a wonderful sauce.




Wix Website from Scratch - Add a Strip
Digital Art and Design - Diane Cipollo, Editor

In this tutorial we will continue working on our Wix website which we are building from scratch. We will add our first strip on the page.



| Google+ |

E D I T O R R E C O M M E N D E D
Pinnacle Car Care


The Creme De La Creme of Ultimate Car Care is In the House! Using Pinnacle´s product line is like a visit to the salon and the results--magnifique!
Investing $10K in 2014


Looking to invest in 2014? This EBook will show you how to create a simple portfolio that helps you invest successfully in any year.
Turn On Your Inner Light by Debbie Mandel


This entertaining book offers easy to implement stress-management tools for 29 common life situations: techniques, visualizations and a fitness workout to get you off the couch. Take back your power and live more energetically. Don't vent - reinvent!