Beauty & Self
Books & Music
Career
Computers
Education
Family
Food & Wine
Health & Fitness
Hobbies & Crafts
Home & Garden
Money
News & Politics
Relationships
Religion & Spirituality
Sports
Travel & Culture
TV & Movies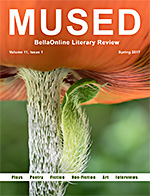 In our modern world of 24-hour diners and around-the-clock email, it sometimes seems as if weíve lost track of natureís cycles. But then the Spring Equinox comes along and reminds us to pause. For thousands of years, cultures around the world have recognized this one special day as representing a balance of light and dark. Itís a unique moment in time where our world settles in equilibrium Ė just for a breath. And then the sunlight shines out and pulls us deeper into Spring.

Enjoy the Mused Spring Equinox 2017 Issue




Cleansing Your Crystals
New Age - Deanna Leigh Joseph, Editor

Crystals are powerful conductors of energy, and this energy will affect our emotions and well-being. Because our crystal companions are exposed to lots of energies throughout our daily living (and not all of it is positive), itís important to know how, and when, to cleanse our crystals!




The Steel Kiss Book Review
Suspense / Thriller Books - Karen Hancock, Editor

While Amelia Sachs pursues a killer, a man falls inside an escalator; while trying to save the man, Amelia loses her killer. Lincoln agrees to help with a civil suit, and the suspense begins.




Congress and Education 2017
School Reform - Maeve Maddox, Editor

A principal goal of the 115th Congress is to abolish the federal Department of Education. Wherever you stand on the issue, you would do well to consider the ramifications.




Ella Autie Book Review
Reading - Connie Mistler Davidson, Editor

Ella Autie by Catlaina Vrana is an informational picture book about autism that is written and illustrated by a young autistic woman. With charming illustrations and forthright text, it tells the story of a 4th grade girl with autism. The book shows how understanding autism can lead to friendship.




Choco-Nut Chunk Cookie recipe
Cooking for Kids - Kymberly A. Morgan, Editor

A super easy, super healthy snack that your kids can help you make. They are Packed with nutrients, and your kids will never know they are clean cookies! You can have your cookie and eat it too. You'll want to make these over and over again!




Chamaeleon Ė the Southern Stellar Lizard
Astronomy - Mona Evans, Editor

Chamaeleons lived in lands exotic to 16th-century Europeans. Yet although color-changing lizards are fascinating, Chamaeleon the constellation is a small, dim southern sky constellation with no associated mythology. Why does it even exist? Is there anything of interest there?



| Google+ |

E D I T O R R E C O M M E N D E D
Healing Herbs


Unknown facts revealed about herbs. Information that you should know about 80 herbs that treat common health ailments.
Paradise in Plain Sight


Paradise in Plain Sight: Lessons from a Zen Garden by Zen Priest Karen Maezen Miller, is both memoir and Zen guide. Maezen Miller shares experiences repairing and tending a historical Japanese garden in her own backyard, guiding the reader towards direct insight. It is beautifully written, honest, and relevant to the modern seeker of any faith.
Turn On Your Inner Light by Debbie Mandel


This entertaining book offers easy to implement stress-management tools for 29 common life situations: techniques, visualizations and a fitness workout to get you off the couch. Take back your power and live more energetically. Donít vent - reinvent!