Beauty & Self
Books & Music
Career
Computers
Education
Family
Food & Wine
Health & Fitness
Hobbies & Crafts
Home & Garden
Money
News & Politics
Relationships
Religion & Spirituality
Sports
Travel & Culture
TV & Movies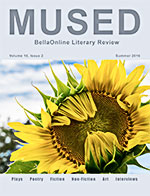 For many people, summertime is the perfect time to explore creativity. Plein air artists bring easels to gardens and beaches, showcasing nature's colors in oils, acrylics, and watercolors. Photographers ferret out a million sights to immortalize. Poets and writers stretch languidly beneath a shady oak tree, listening to the gentle buzz of insects, and constructing entire worlds out of the ether.

Enjoy the creativity of our community of artists - and then explore your own! We'd love to see your works for upcoming issues!

Summer Solstice 2016 issue of Mused


Reducing College Stress
Distance Learning - Patricia Pedraza-Nafziger, Editor

Creating a balanced lifestyle is a great way to begin minimizing stresses in your life. Managing your activities and organizing them in a fashion that makes the most of your time is one the keys to eliminating factors associated with stress.




Virabhadrasana II
Yoga - Korie Beth Brown, Editor

Virabhadrasana II is one of the key standing poses. It's important to use it for more than just a way into and out of other open hip poses.




The Beaches of Coronado
California - Korie Beth Brown, Ph.D. , Editor

Looking for a great San Diego area beach? Coronado Island has plenty of them!




The Trinity and Significance of Number 3 in Art
Art Appreciation - Camille Gizzarelli, Editor

Whether you're religious, or not, the Bible eludes to groupings of 3 as well as Greek mythology. I'll discuss art where the theme is in the power of 3.




When You Bring Pickles to a Potluck
Etiquette - Lisa Plancich, Editor

Labor Day and Potlucks go hand in hand. Make sure your hands arrive with the proper covered dish and something to drink.




7 Tips For Choosing A Great Cruise Cabin
Cruises - Nancy Schretter, Editor

Selecting a cruise ship stateroom can often be a challenge. The best cruise cabin for each guest depends on a number of personal preferences, each of which should be carefully considered. Ship layout is key as well. Here are seven tips to help you pick the best stateroom for your cruise vacation.



| Google+ |

E D I T O R R E C O M M E N D E D
Ordinary People as Monks and Mystics


This non-denominational book is appropriate for any religious path, and helps you to explore your spirituality whether you are more of a mystic or more of a monk. Both approaches are valid.
Building School Success with ADD


Finally, there is help for kids with ADD who hate school. This small book is filled with practical tips to make school life better for students with ADD! Use this book to make a positive start this year. Building School Success with ADD can make a difference.
The Eye of Adoption


Jody Cantrell Dyer´s down-to-earth, honest account of her experiences with infertility and the adoption process will have you laughing and crying. Perfect for anyone interested in learning more about adoption!