Beauty & Self
Books & Music
Career
Computers
Education
Family
Food & Wine
Health & Fitness
Hobbies & Crafts
Home & Garden
Money
News & Politics
Relationships
Religion & Spirituality
Sports
Travel & Culture
TV & Movies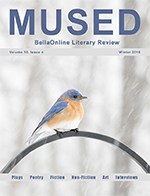 Sometimes it seems as if winter quotes make winter out to be a necessary evil which exists only for us to appreciate the subsequent warmth. Shelley: "If winter comes, can spring be far behind?" Shakespeare: "Now is the winter of our discontent made glorious summer by this sun of York." Hugo: "Laughter is the sun that drives winter from the human face."

But winter is far more than a down against which to compare the subsequent ups. Winter is a powerful, magical time. It is a season of strength. Of looking inward and finding focus. Bob Seger stated, "I write probably 80 percent of my stuff over the winter." Terri Guillemets reminds us, "The color of springtime is in the flowers; the color of winter is in the imagination." The Winter Solstice is a time to embrace the mysterious. The endless possibilities. The sense that we already have, within ourselves, boundless creativity and opportunity. We simply have to still ourselves and listen.

Winter is a powerful season. It gives us that space to look back and learn from our history. To look forward and envision what we wish to become. To be fully mindful of the present and be aware how each day has potential for us to speak out and impact the way our world proceeds. To move us toward peace, fulfillment, and an appreciation of what each of us has to offer.

Happy Winter Solstice.

Enjoy the Mused Winter Solstice 2016 Issue




Playing with Ribbing
Knitting - Korie Beth Brown, Ph.D., Editor

Take the time to swatch different rib patterns, and use your new knowledge to personalize your next garment!




Vinyasa Variations
Yoga - Korie Beth Brown, Editor

Take the time to practice the transitional movements of vinyasa! Think through the choices! Your spiritual and physical selves will thank you.




Food That Inspired Art and Creativity
Art Appreciation - Camille Gizzarelli, Editor

Leonardo da Vinciís notebooks contain a diary on health and cooking. The artists Henri Matisse and Paul Cezanne painted fruit as their subject matter. Iíll discuss art conceived with the theme of food - yum.




Brain Development Delays Cause ADD
Attention Deficit Disorder - Connie Mistler Davidson, Editor

A large new brain imaging study, published in The Lancet Psychiatry, builds on earlier, studies to remove the stigma from ADD. These MRI brain imaging studies show visible differences in the brains of people with ADD. ADD is not caused by poor parenting or kids who don't care about their behavior!




European Astrofest 2017
Astronomy - Mona Evans, Editor

It was the 25th Astrofest Ė and how things have changed since the first one! No one knew then if other stars had planets. Pluto was still a planet and its discoverer Clyde Tombaugh was still alive. The Rosetta mission was in the very early planning stages, and Cassini-Huygens hadn't been launched.




7 Flight Tips For Your Winter Cruise
Cruises - Nancy Schretter, Editor

Cruises can provide a great escape from winterís cold weather. Winter months can be filled with travel hazards like snow and ice storms though, which can wreak havoc on flight schedules. Here are seven flight planning tips to help you arrive on time and avoid missing your winter cruise departure.



| Google+ |

E D I T O R R E C O M M E N D E D
MS Window 7 Home Upgrade


The newest and best operating system from Microsoft - Windows 7. Install for yourself and have a new computing experience.
Ordinary People as Monks and Mystics


This non-denominational book is appropriate for any religious path, and helps you to explore your spirituality whether you are more of a mystic or more of a monk. Both approaches are valid.
Building School Success with ADD


Finally, there is help for kids with ADD who hate school. This small book is filled with practical tips to make school life better for students with ADD! Use this book to make a positive start this year. Building School Success with ADD can make a difference.