Beauty & Self
Books & Music
Career
Computers
Education
Family
Food & Wine
Health & Fitness
Hobbies & Crafts
Home & Garden
Money
News & Politics
Relationships
Religion & Spirituality
Sports
Travel & Culture
TV & Movies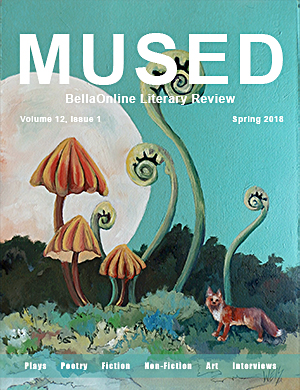 It can seem sometimes as if our world is whirling faster than we can keep up with. It can become overwhelming. Exhausting.

A balm which rejuvenates is to explore the creative efforts of individuals around us. To begin, turn off the noise and clatter of the world at large. Take a deep breath and instead focus on connecting with one fellow human being who presents their jewel of a thought to you. Examine it mindfully. Consider its meaning. Soak in the moment with this one human. Then connect with another. And another.

Enjoy the Mused Spring Equinox 2018 Issue




Blueberries Benefits & Healthy Blueberry Recipes
Nutrition - Moss Greene, Editor

The health Benefits of blueberries makes them superheroes. Use these tasty, low calorie healthy blueberry recipes for disease prevention blueberry benefits.




Shopping for Scents
Fragrance - Juliette Samuel, Editor

Shopping for scents has become a ritual, so to speak, for each new season.You can even do it online.




Fresh Juices For Ethnic Beauties
Ethnic Beauty - Juliette Samuel, Editor

You're no stranger to juicing, especially when it comes to health and wellness. Green drinks and smoothies have become a way of life for a lot of you.You're no stranger to juicing, especially when it comes to health and wellness. But What About Your Skin Care Needs?




Canada's Royal Botanical Gardens
Senior Travel - Hazel M. Freeman, Editor

At less than 50 miles from Niagara Falls the natural beauty and inspiration you'll get from a visit to the RBG is a great reason to add it to your travel itinerary if your visiting the falls.




Family and Community
Christian Living - Lynne Chapman, Editor

God is all about togetherness. It isn't easy, but a three year old taught me the importance of it.




Suwannee River State Park
Florida - Georgiana Kurtz, Editor

Suwannee River State Park is located at the confluence of the Withlacoochee River North and the Suwannee. Because it's on the Suwannee River Wilderness Trail, it's a great place for paddlers to camp. The park also offers hiking and historical interest.



| Google+ |

E D I T O R R E C O M M E N D E D
Paradise in Plain Sight


Paradise in Plain Sight: Lessons from a Zen Garden by Zen Priest Karen Maezen Miller, is both memoir and Zen guide. Maezen Miller shares experiences repairing and tending a historical Japanese garden in her own backyard, guiding the reader towards direct insight. It is beautifully written, honest, and relevant to the modern seeker of any faith.
True Balance by Sonia Choquette


This terrific guide gives you fun, everyday ideas with which to open and strengthen all seven of your chakra energy-centers, including the third-eye chakra and crown chakra which help you to connect with psychic phenomena and the divine.
From Pain to Parenthood


Follow one woman´s incredible and heartfelt journey from the pain of miscarriages to the joy of becoming a parent through adoption. Filled with honest, raw emotions and helpful coping tips, "From Pain to Parenthood" promises to touch your life with a real story that shows the power of the human spirit and the beauty of a mother´s love.