Beauty & Self
Books & Music
Career
Computers
Education
Family
Food & Wine
Health & Fitness
Hobbies & Crafts
Home & Garden
Money
News & Politics
Relationships
Religion & Spirituality
Sports
Travel & Culture
TV & Movies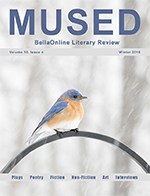 Sometimes it seems as if winter quotes make winter out to be a necessary evil which exists only for us to appreciate the subsequent warmth. Shelley: "If winter comes, can spring be far behind?" Shakespeare: "Now is the winter of our discontent made glorious summer by this sun of York." Hugo: "Laughter is the sun that drives winter from the human face."

But winter is far more than a down against which to compare the subsequent ups. Winter is a powerful, magical time. It is a season of strength. Of looking inward and finding focus. Bob Seger stated, "I write probably 80 percent of my stuff over the winter." Terri Guillemets reminds us, "The color of springtime is in the flowers; the color of winter is in the imagination." The Winter Solstice is a time to embrace the mysterious. The endless possibilities. The sense that we already have, within ourselves, boundless creativity and opportunity. We simply have to still ourselves and listen.

Winter is a powerful season. It gives us that space to look back and learn from our history. To look forward and envision what we wish to become. To be fully mindful of the present and be aware how each day has potential for us to speak out and impact the way our world proceeds. To move us toward peace, fulfillment, and an appreciation of what each of us has to offer.

Happy Winter Solstice.

Enjoy the Mused Winter Solstice 2016 Issue




Free Form Tatting Collage
Tatting - Georgia Seitz, Editor

Just once, throw away the pattern, grab shuttles, needles and thread in several colors and just start tatting. You will be surprised at what falls out of your shuttle or off your needle. Try this simple collage.




Emerald City on NBC
Prime Time TV - Maria Brown, Editor

Emerald City is NBC's dark take on the book "The Land of Oz" (or the movie, "The Wizard of Oz").




Benefits of Drinking Lots of Water
Nutrition - Moss Greene, Editor

Most people don't fully realize the many health benefits of water. Yet drinking water is cheap, calorie-free and it's actually your most important nutrient!




Murgh Shorba (Chicken Soup) Recipe
Indian Food - Sadhana Ginde, Editor

My hearty & delicious Murgh Shorba (Hindi for chicken soup) is the Indian version of comfort food. In fact, my son even calls it "comfort in a bowl." On chilly days, tasty murgh shorba is usually prepared to help chase away the cold winter chill. So try a nice big bowl of this delicious soup :-)




Distractions Be Gone
Learning Disabilities - Celestine A. Gatley, Editor

Distractions are all around us. No matter what we set out to do, we often face distractions. There seems to be a roadblock to our goals. We have the inability to get anything done. With a simple plan, we can minimize or even eliminate our distractions and accomplish our goals.




Metta Meditation
Yoga - Korie Beth Brown, Editor

Here's a simple meditation to open your heart and change your life!



| Google+ |

E D I T O R R E C O M M E N D E D
How to Write Descriptions of Eyes and Faces


by Val Kovalin, your BellaOnline editor for the Fiction Writing site. Learn to describe the appearance of the eyes, actions involving the eyes, and how to describe eyelids, eyebrows, and eyelashes. More than 2,000 words explaining 82 color names to assign to eyes. Facial shapes, forehead, ears, cheekbones, nose, lips, chin, and facial hair. Learn how the face shows different emotions, and more!