Beauty & Self
Books & Music
Career
Computers
Education
Family
Food & Wine
Health & Fitness
Hobbies & Crafts
Home & Garden
Money
News & Politics
Relationships
Religion & Spirituality
Sports
Travel & Culture
TV & Movies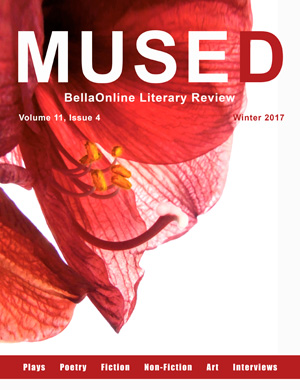 We all travel on this blue-green ball around our very own star each year, sliding a little closer, sliding a bit further away. The balance is critical. Too much closer and we'd roast. Too much further away and we'd freeze.

We should be aware of just how blessed we are that our Earth is "just right" - and do what we can to keep our world healthy. It's the only one we have.

Enjoy the Mused Winter Solstice 2017 Issue




Pumpernickel Grilled Cheese Sandwich Recipe
Sandwiches - Connie Mistler Davidson, Editor

Sometimes, I want a full-flavored hearty sandwich, something with Old World comfort. Thatís when I turn to this delicious sandwich. It has a rich crunch and ingredients that satisfy my need for real food.




Juggernaut Film Review
Drama Movies - Angela K. Peterson, Editor

A home-grown terrorist plants seven bombs on a British ocean liner. The authorities have twenty-four hours to find him and save the passengers. This overlooked gem from the seventies stars Anthony Hopkins, Omar Sharif, Richard Harris, and Shirley Knight.




Scents for Vitality
Fragrance - Juliette Samuel, Editor

Stimulate your senses, reawaken your body and mind, create a reviving atmosphere that will be both physically and spiritually revitalizing with natural essences.




Vitamin C for Ethnic Skin Care
Ethnic Beauty - Juliette Samuel, Editor

Have you ever been troubled by acne on your skin ethnic beauty? Vitamin C to the rescue! Read about some of its benefits for acne challenged ethnic skin.




Unbelievably Good Deals for Seniors
Senior Travel - Hazel M. Freeman, Editor

Still a favorite, "Unbelievably Good Deals and Great Adventures That You Absolutely Canít Get Unless Youíre Over 50," includes amazing bargains on airfares, hotels, car rentals, public transportation, vacations designed for you and your grandkids, tennis camps, golf vacations, ski clubs, and more.




Experience the Power of God - El-Shaddai
Christian Living - Lynne Chapman, Editor

El-Shaddai means God Almighty, God Most High, God of the Mountains or God Who is Sufficient.



| Google+ |

E D I T O R R E C O M M E N D E D
Italki... Learn a language!


Willing to learn/practice a language? Italki is the place! Find native speakers (almost any language in the world). You will also earn $10 USD in italki credits! Help others and learn another language in exchange or schedule an online class with a native community tutor or a teacher. (Italki image from www.italki.com)
Your Adoption Guidebook


Considering adoption and not sure where to start? This handy guidebook is for you! Youíll find everything you need to decide if adoption is the right path and then learn how to begin the process.