Beauty & Self
Books & Music
Career
Computers
Education
Family
Food & Wine
Health & Fitness
Hobbies & Crafts
Home & Garden
Money
News & Politics
Relationships
Religion & Spirituality
Sports
Travel & Culture
TV & Movies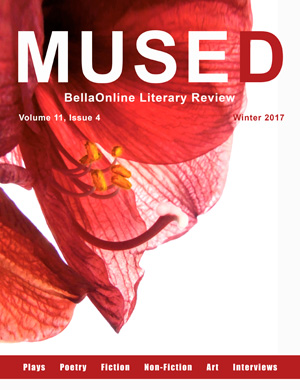 We all travel on this blue-green ball around our very own star each year, sliding a little closer, sliding a bit further away. The balance is critical. Too much closer and we'd roast. Too much further away and we'd freeze.

We should be aware of just how blessed we are that our Earth is "just right" - and do what we can to keep our world healthy. It's the only one we have.

Enjoy the Mused Winter Solstice 2017 Issue




Insidious Book Review
Suspense / Thriller Books - Karen Hancock, Editor

Savich is contacted by his grandmother's best friend, who is convinced someone is trying to kill her. He is also working with Cam Wittier, a fellow FBI agent to find a serial killer who is slashing actress's throats.




Faith in Action
Baptist - Celestine A. Gatley, Editor

In the bible, there are accounts of faith in action. The Lord gave a directive and it was the responsibility of the believer to comply. Find out how to put your faith to work for you.




Steal Big Steal Little Film Review
Drama Movies - Angela K. Peterson, Editor

"Steal Big Steal Little", director Andrew Davis's follow-up to "The Fugitive", is a film that deserves a second look. Andy Garcia stars in a dual role, playing twin brothers who are locked in battle over their adoptive mother's inheritance.




Beaded Valentin Heart Sachet
Tatting - Georgia Seitz, Editor

This dainty valentine can not only carry Cupid's message, but also serve as a pin cushion, brooch holder, or a sweetly scented sachet.




Counting & Cutting Calories to Lose Weight
Nutrition - Moss Greene, Editor

Cutting calories and counting calories to lose weight is not as hard as you may think. Here's how to count calories and how to cut calories to lose weight.




It's Bucket List Time
Senior Issues - Pamela Slaughter, Editor

It's January, which is the perfect time to review or create your bucket list! This article will walk you through creating your list, and then taking a first step to making something very special happen.



| Google+ |

E D I T O R R E C O M M E N D E D
LoMásTv


Highly recommended product, if you really want to improve your Spanish. While watching the video you have the option to read, in subtitles, the words in Spanish and, if you also chose it, you can read the translation (in English) for it. Simply... ¡Genial!
Paradise in Plain Sight


Paradise in Plain Sight: Lessons from a Zen Garden by Zen Priest Karen Maezen Miller, is both memoir and Zen guide. Maezen Miller shares experiences repairing and tending a historical Japanese garden in her own backyard, guiding the reader towards direct insight. It is beautifully written, honest, and relevant to the modern seeker of any faith.
Heart Beat


A clean cozy mystery for pleasure reading. Murder and mayhem with a side of humor. Second volume of the Evelynton Murder Series