Beauty & Self
Books & Music
Career
Computers
Education
Family
Food & Wine
Health & Fitness
Hobbies & Crafts
Home & Garden
Money
News & Politics
Relationships
Religion & Spirituality
Sports
Travel & Culture
TV & Movies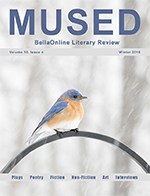 Sometimes it seems as if winter quotes make winter out to be a necessary evil which exists only for us to appreciate the subsequent warmth. Shelley: "If winter comes, can spring be far behind?" Shakespeare: "Now is the winter of our discontent made glorious summer by this sun of York." Hugo: "Laughter is the sun that drives winter from the human face."

But winter is far more than a down against which to compare the subsequent ups. Winter is a powerful, magical time. It is a season of strength. Of looking inward and finding focus. Bob Seger stated, "I write probably 80 percent of my stuff over the winter." Terri Guillemets reminds us, "The color of springtime is in the flowers; the color of winter is in the imagination." The Winter Solstice is a time to embrace the mysterious. The endless possibilities. The sense that we already have, within ourselves, boundless creativity and opportunity. We simply have to still ourselves and listen.

Winter is a powerful season. It gives us that space to look back and learn from our history. To look forward and envision what we wish to become. To be fully mindful of the present and be aware how each day has potential for us to speak out and impact the way our world proceeds. To move us toward peace, fulfillment, and an appreciation of what each of us has to offer.

Happy Winter Solstice.

Enjoy the Mused Winter Solstice 2016 Issue




7 Flight Tips For Your Winter Cruise
Cruises - Nancy Schretter, Editor

Cruises can provide a great escape from winterís cold weather. Winter months can be filled with travel hazards like snow and ice storms though, which can wreak havoc on flight schedules. Here are seven flight planning tips to help you arrive on time and avoid missing your winter cruise departure.




Star-Spangled Banner Housed In New Exhibit
Senior Travel - Hazel M. Freeman, Editor

The Smithsonianís National Museum of American History has a new gallery and exhibit to display the Star-Spangled Banner. The flag recently underwent an extensive conservation treatment and is once again on display for the public to see.




Pink Collar Crimes
Crime - Vance R. Rowe, Editor

Pink Collar crimes are white-collar crimes that are perpetrated by women such as embezzlement and forgery. Read my article to find out who was the biggest perpetrator of this crime.




To Forgive a Crime
Christian Living - Lynne Chapman, Editor

Do we forgive a guilty person even though there is no remorse?




Orzo Salad Recipe
Sandwiches - Connie Mistler Davidson, Editor

No need to take the walk of shame at a potluck meal with a store-bought dish; try making this salad, instead. Orzo salad takes less than 30 minutes to make, from start to finish. Pull together a few common ingredients, refrigerate it for 3 hours, and serve it proudly. Tasty! Try some soon!




Love Is
Marriage - Michelle Taylor, Editor

There is a verse in the Bible, 1 Corinthians 13:4-7, that gives a very good description of what love should be. It is helpful for the religious and non-religious alike. Read on to find out what love is.



| Google+ |

E D I T O R R E C O M M E N D E D
God Underneath


Spiritual Memoirs of a Catholic Priest, By Edward L. Beck. Each chapter contains a scripture passage and personal tales revealing Godís presence in everyday life. Fr. Beck is a member of the Passionist community and travels throughout the country preaching and organizing retreats. I highly recommend this wonderful book and have personally attended several of Fr. Beckís inspiring parish missions.
Spectorsoft EBlaster 6.0 Security and Monitor Soft


Installed in less than five minutes the eblaster software monitors the online activity of children. Providing email alerts to the designated email whenever a child receives or sends an email. Also, allows monitoring of chat rooms, key strokes, and instant messages. See who is talking to your child online.
Heart Strings - cozy mystery


Sheís certain she knows who the killer is, but will she be brave enough to confront the murderer for the scoop of a lifetime? This quirky cozy mystery is sure to keep you entertained and guessing to the last page.