Beauty & Self
Books & Music
Career
Computers
Education
Family
Food & Wine
Health & Fitness
Hobbies & Crafts
Home & Garden
Money
News & Politics
Relationships
Religion & Spirituality
Sports
Travel & Culture
TV & Movies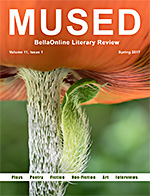 In our modern world of 24-hour diners and around-the-clock email, it sometimes seems as if we've lost track of nature's cycles. But then the Spring Equinox comes along and reminds us to pause. For thousands of years, cultures around the world have recognized this one special day as representing a balance of light and dark. It's a unique moment in time where our world settles in equilibrium – just for a breath. And then the sunlight shines out and pulls us deeper into Spring.

Enjoy the Mused Spring Equinox 2017 Issue




New Technologies Make Stamp Resubmissions Welcome
Stamps - Gary Eggleston, Editor

Passing references have been made in some stamp collecting publications about resubmitting items for expertization that have come back with no, or negative opinions. One recent article highlights new technologies that invite collectors to resubmit items for certification.




Less Germs From Cashless Society?
Coin Collecting - Gary Eggleston, Editor

There are many ongoing pro and con discussions about a cashless society, in which all monetary transactions take place digitally. Some proponents would agree that a few of the arguments both for and or against make some sense. Then there are the marginal arguments some of which include the idea that




Febreze One Fabric And Air Mist Review
Body Care - BB Lee, Editor

Febreze One Fabric And Air Mist Review




Decorate a Memory Box
Crafts for Kids - Launa Stout, Editor

Provide your child with a box and plenty of decorating supplies. Let them make a special box to collect their memories, or let them make a memory box for someone special in their lives.




Slow Cooker Tamale & Rice Bake Recipe
Quick Cooking - Karen Hancock, Editor

Mexican food is a must on Cinco de Mayo, and this easy casserole is perfect to serve. It's really good, though and you'll want to serve it year round.




Black Mirror
Prime Time TV - Maria Brown, Editor

If you were a fan of The Twilight Zone, they you may enjoy the British science fiction series, Black Mirror.



| Google+ |

E D I T O R R E C O M M E N D E D
The Weiser Field Guide to Cryptozoology


The Weiser Field Guide to Cryptozoology by Deena West Budd includes information, interviews, and stories about forty different cryptids seen in various places all over the world by credible eyewitnesses like policemen, rangers, and doctors. Readers will learn where and how to find flying humanoids, hairy humanoids, giants of all kinds including rabbits, bats and spiders, goblins, and vampires.
Paradise in Plain Sight


Paradise in Plain Sight: Lessons from a Zen Garden by Zen Priest Karen Maezen Miller, is both memoir and Zen guide. Maezen Miller shares experiences repairing and tending a historical Japanese garden in her own backyard, guiding the reader towards direct insight. It is beautifully written, honest, and relevant to the modern seeker of any faith.