Beauty & Self
Books & Music
Career
Computers
Education
Family
Food & Wine
Health & Fitness
Hobbies & Crafts
Home & Garden
Money
News & Politics
Relationships
Religion & Spirituality
Sports
Travel & Culture
TV & Movies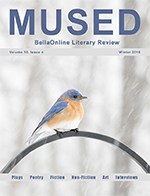 Sometimes it seems as if winter quotes make winter out to be a necessary evil which exists only for us to appreciate the subsequent warmth. Shelley: "If winter comes, can spring be far behind?" Shakespeare: "Now is the winter of our discontent made glorious summer by this sun of York." Hugo: "Laughter is the sun that drives winter from the human face."

But winter is far more than a down against which to compare the subsequent ups. Winter is a powerful, magical time. It is a season of strength. Of looking inward and finding focus. Bob Seger stated, "I write probably 80 percent of my stuff over the winter." Terri Guillemets reminds us, "The color of springtime is in the flowers; the color of winter is in the imagination." The Winter Solstice is a time to embrace the mysterious. The endless possibilities. The sense that we already have, within ourselves, boundless creativity and opportunity. We simply have to still ourselves and listen.

Winter is a powerful season. It gives us that space to look back and learn from our history. To look forward and envision what we wish to become. To be fully mindful of the present and be aware how each day has potential for us to speak out and impact the way our world proceeds. To move us toward peace, fulfillment, and an appreciation of what each of us has to offer.

Happy Winter Solstice.

Enjoy the Mused Winter Solstice 2016 Issue




Brain Development Believed to Cause ADD
Attention Deficit Disorder - Connie Mistler Davidson, Editor

A large new brain imaging study, published in The Lancet Psychiatry, builds on earlier, studies to remove the stigma from ADD. These MRI brain imaging studies show visible differences in the brains of people with ADD. ADD is not caused by poor parenting or kids who don't care about their behavior!




European Astrofest 2017
Astronomy - Mona Evans, Editor

It was the 25th Astrofest – and how things have changed since the first one! No one knew then if other stars had planets. Pluto was still a planet and its discoverer Clyde Tombaugh was still alive. The Rosetta mission was in the very early planning stages, and Cassini-Huygens hadn't been launched.




7 Flight Tips For Your Winter Cruise
Cruises - Nancy Schretter, Editor

Cruises can provide a great escape from winter's cold weather. Winter months can be filled with travel hazards like snow and ice storms though, which can wreak havoc on flight schedules. Here are seven flight planning tips to help you arrive on time and avoid missing your winter cruise departure.




Gardener's Aromatic Salve
Fragrance - Juliette Samuel, Editor

Time to start something new. Could gardening be in the plan? If so, you're going to need skin care products to take care of your hands as you work with Mother Nature. Learn the beauty of essential oils as you work your garden and ...




Star-Spangled Banner Housed In New Exhibit
Senior Travel - Hazel M. Freeman, Editor

The Smithsonian's National Museum of American History has a new gallery and exhibit to display the Star-Spangled Banner. The flag recently underwent an extensive conservation treatment and is once again on display for the public to see.




Pink Collar Crimes
Crime - Vance R. Rowe, Editor

Pink Collar crimes are white-collar crimes that are perpetrated by women such as embezzlement and forgery. Read my article to find out who was the biggest perpetrator of this crime.



| Google+ |

E D I T O R R E C O M M E N D E D
Pinnacle Car Care


The Creme De La Creme of Ultimate Car Care is In the House! Using Pinnacle´s product line is like a visit to the salon and the results--magnifique!
Healing Herbs


Unknown facts revealed about herbs. Information that you should know about 80 herbs that treat common health ailments.
Mastering Essential Math Skills


This exercise book is an excellent resource to practice and review math skills you´ll need to establish a strong foundation and smooth transition into Algebra and other higher math courses. Workbooks are available for 4th – 5th grade and middle school / high school.