Beauty & Self
Books & Music
Career
Computers
Education
Family
Food & Wine
Health & Fitness
Hobbies & Crafts
Home & Garden
Money
News & Politics
Relationships
Religion & Spirituality
Sports
Travel & Culture
TV & Movies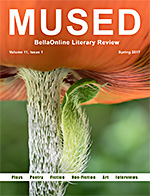 In our modern world of 24-hour diners and around-the-clock email, it sometimes seems as if we've lost track of nature's cycles. But then the Spring Equinox comes along and reminds us to pause. For thousands of years, cultures around the world have recognized this one special day as representing a balance of light and dark. It's a unique moment in time where our world settles in equilibrium – just for a breath. And then the sunlight shines out and pulls us deeper into Spring.

Enjoy the Mused Spring Equinox 2017 Issue




Ghost of Paris, MO
Paranormal - Deena Budd, Editor

The "Ghost of Paris" visited the little town of Paris, Missouri every Halloween season from 1864 to 1934.




Modern exorcism- Its strengths and weaknesses
Pagan - Ian Edwards, Editor

Learn how Exorcism today differs from the traditional ways of performing it, and how this has its own strengths and weaknesses




The Value of Companion Animals and ADD
Attention Deficit Disorder - Connie Mistler Davidson, Editor

If your family's lifestyle allows for pet ownership, consider adding a companion animal to your family. These furry family members need the dedication and resources to enjoy a "forever family." When you have a child with ADD, a companion animal, can mean the world to that child.




Your Most Important Questions About Skin Answered
Body Care - BB Lee, Editor

Dermatologist state that there are 5 skin types. The skin types include normal, dry, oily, sensitive, and aging. Follow the tips included here to keep your skin type healthy and looking fabulous.




Sewing Details, Old and New
Sewing - Cheryl Ellex, Editor

The invention and general acceptance of the slide fastener or zipper as we have come to know it allowed garment sewing to become a more efficient endeavor for the home sewer. In addition, the rise of sewing pattern companies greatly enhanced the abilities of home sewers to clothe their families.




Fat Foods – What are Good Fats vs Bad Fats?
Nutrition - Moss Greene, Editor

What are Good fats and bad fats? Studies show that healthy fats = a healthy heart and bad fats = an unhealthy heart. Here's how to know good fat vs bad fat.



| Google+ |

E D I T O R R E C O M M E N D E D
Giada´s Kitchen


In this book each recipe is a burst of taste, colors and combination of flavors; the instructions are really easy to follow for anyone, and the final result of virtually every dish is presented in a beautiful arrangement of photographs.
The 500 World´s Greatest Golf Holes


This is a great coffee table book with photos and narrative describing some of the best golf holes in the world. Makes a great start for your bucket list of golf courses to visit. Published by Golf Magazine.
The Killer Angels by Michael Shaara


Best historical novel ever, and I don´t even like most historical novels. Epic and unforgettably intense! Among other things, reading this will teach you how to hook your readers through writing strong character emotion.