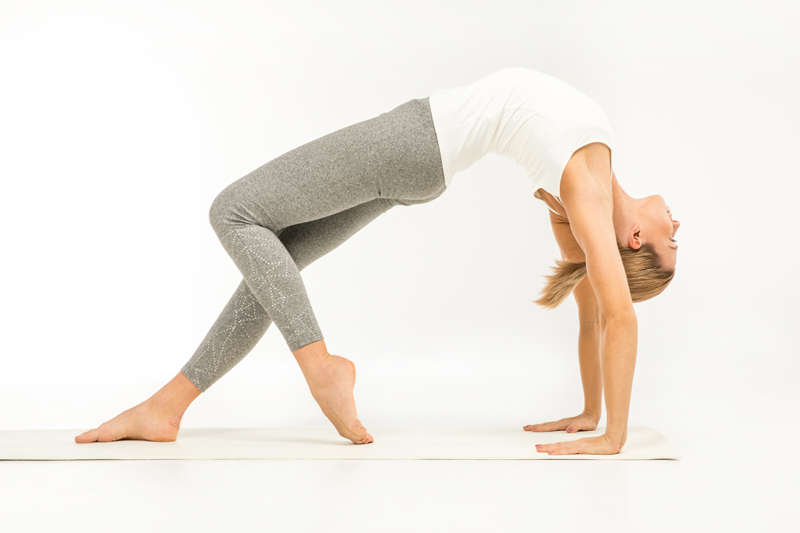 Most people are well-intentioned, and it is therefore doubly upsetting for a newcomer to discover that s/he has done something inappropriate in a studio class. While one can in doubt, follow the lead of the person on the next mat over, it's always nice to have some knowledge before class starts. Here are a few pointers that may be helpful.

It's considered good form to arrive a few minutes early so as to be able to set up one's area. When entering a yoga studio, always remove shoes first and leave them in the indicated area; yoga is traditionally done with bare feet. (If one's tend to get cold during savasana, one can always bring socks and keep them handy to put on at the end of class.) When setting up for a class, ask the teacher which props will be used during class and collect them all before class starts. This way, there is no need to walk across the room during a class, which can annoy other people. If, however, a prop is needed midway through, try to walk around the back perimeter of the room or ask the teacher for assistance.

The instructor has planned the class out in a particular way for a reason, and this should be respected by the attendees. Before class, let the teacher know if there are any limitations, so that s/he knows to give alternate instructions when necessary. Follow the instructor's guiding as much as possible; if for whatever reason a break is needed, it is always appropriate to move into balasana or child's pose and to stay there until one is ready to move on. Also, keep in mind that menstruating women (often referred to as those 'in their moon time') should not invert; if the teacher does not mention this, know that "Legs Up the Wall" pose should be substituted for any pose that lifts the pelvis above the rest of the body.

If the room is set up with an altar on one side, never point bare feet in that direction. Note also that in some traditions it is considered inappropriate to point bare feet at the teacher. When lying down, align the head with the instructor or dais, when sitting, position the body so that the feet will not point. It's considered good form to be as still as possible during any kind of meditation period, as the rustling can offend people. Finally, remember that ujjayi breathing is a powerful personal tool – and it should be kept personal. Extremely loud ujjayi breathing is disruptive to the concentration of those in the vicinity. Keep the "whisper breath" low enough so that those on the adjacent mats are not bothered.

A suggestion that seems obvious, but isn't always followed: please make sure to return all mats, blocks, straps, bolsters, eye pillows, and any other piece of borrowed equipment to its storage space at the end of the class. There are instructors who will do this as the class is progressing, but it isn't one of the teacher's duties. Also, if there is another class following, do this quickly so that those attending the next class can set up; when thanking or speaking with the teacher, move into the perimeter so as not to obstruct those getting ready to begin.

Finally, keep in mind that appropriate etiquette is as much a matter of intention as it is behavior. Remember that asana is a spiritual as well as a physical action, and keep the mind on respect and gratitude. If a mistake is made, apologize, correct it, and move on. The vast majority of the yoga community is gracious, and one's behavior over time is more important than a mistake or two. Enjoy class and remember that the word 'yoga' means 'union' - the ultimate purpose is to link one's self with something greater, whether that be better health, the communal vibration, or the divine. One's behavior should always align with this knowledge.



Related Articles
Editor's Picks Articles
Top Ten Articles
Previous Features
Site Map





Content copyright © 2022 by Korie Beth Brown. All rights reserved.
This content was written by Korie Beth Brown. If you wish to use this content in any manner, you need written permission. Contact Korie Beth Brown for details.