Your Sole Form of Exercise?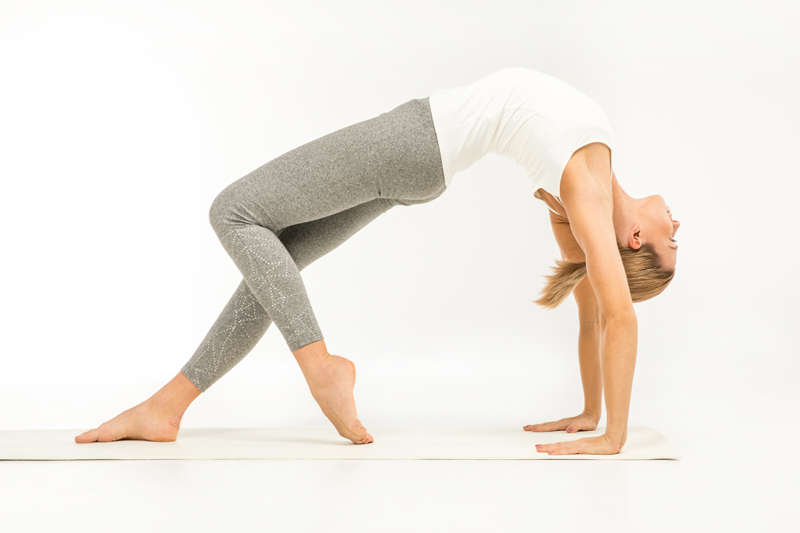 In the Western world, yoga has become synonymous with exercise, beautiful bodies, and a certain lifestyle. No doubt this has contributed to its rise in popularity. Whether or not yoga should be practiced separately from its meditative and spiritual aspects, the fact remains that many people do attend yoga classes looking for 'yoga butt.' As a 'mind-body' discipline, yoga offers many benefits: consistent practice reduces high blood pressure and helps with insomnia. Studies have shown that yoga can reduce blood cholesterol levels and triglycerides, and that it helps battle depression and anxiety. Should yoga, then, be your only form of fitness?

There are three components to physical fitness: strength, cardio-vascular health, and flexibility. In this last category, yoga is one of the best workouts possible. Yoga's stretching emphasis means that muscles are kept limber, which in turn means that sudden movements are less likely to result in injury. This also keeps the body better able to accomplish everyday tasks – for example, crawling under the table to plug in one's laptop. The emphasis on the spine and on correct form confers greater back strength and less chance of injury or pain as well.

Yoga also confers strength benefits on its practitioners, especially when poses are held for extended periods of time. Web MD states that different poses specifically target the core, arms, legs, glutes, and back. Because yoga uses body strength rather than outside weights, it tends to develop muscles that are long and lean rather than bulky, leading to a sleek, toned look.

In the area of cardiovascular fitness, however, studies show mixed results. While the American Osteopath Association's website states that yoga offers 'cardio and circulatory health', other studies have been less enthusiastic about yoga's effect on the heart and lungs. Obviously, the style, length of each session, and consistency of practice will have an impact, but in general, few classes move fast enough to qualify as a sustained cardio session. The Science of Yoga, author William J. Broad specifically cites several studies that either question yoga's ability to confer cardiovascular fitness or demonstrate that it in fact does not.

Put another way, however, the question becomes moot. Hardcore athletes will need other forms of exercise to keep their cardiovascular fitness high, but these are the people who already utilize these other forms! People who don't exercise other than yoga are missing out from some of exercise's benefits, but the truth is that some exercise is indeed better than none. Also, there's a simple way to add that extra piece: park the car far enough away from the studio/gym/room so that you incorporate a brisk walk to and from the class. In time, you might add other forms of movement to your repertoire, begin to explore the non-physical sides of yoga, or optimally both. In the process, however, you will find that yoga improves your life on a corporeal as well as a mental and spiritual level. Enjoy the process as the little miracles start to occur.

You Should Also Read:
The Science of Yoga Book Review


Related Articles
Editor's Picks Articles
Top Ten Articles
Previous Features
Site Map





Content copyright © 2022 by Korie Beth Brown. All rights reserved.
This content was written by Korie Beth Brown. If you wish to use this content in any manner, you need written permission. Contact Korie Beth Brown for details.