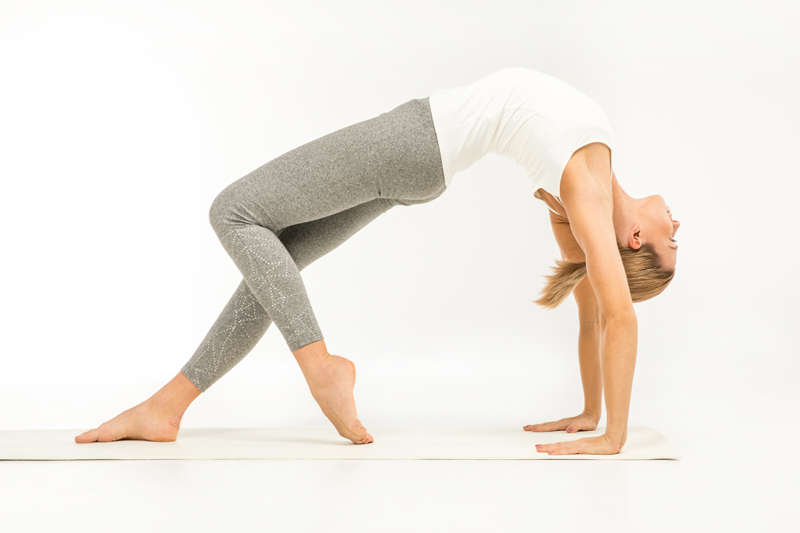 In the go-go-go culture of Western civilization, it's considered a badge of honor to keep plowing along even when ill. Yogic wisdom teaches otherwise. While it's difficult to know when to slow down or stop, being willing and able to do so is in fact a mark of an increasing connection between the body and the mind – which is, after all, one of the goals of a yoga practice. When you find yourself with a cold or the flu, here are some ideas for living through this challenge from a yogic perspective.

Probably the most important mental states to cultivate during this time are acceptance and compassion. Conventional alternative wisdom would insist that, since we create our own reality, that we created this illness. Maybe so, or maybe not – but either way, don't beat up on yourself for getting sick. Also, don't try to power through the illness as if it's not there. For whatever reason, you immune system is currently compromised, and it's important to work with this state in the same way you want to work through any other fact of your life. Let it be okay to be sick. Even better, welcome the chance to detach from your daily life and allow yourself a mini-vacation of sorts. No, you won't enjoy this quite as much as a week in Cancun, but allowing yourself this break may be the absolute best gift you can give yourself.

Listen to your body. This may simply be a bad time to practice any kind of asana or intense pranayama. When you are sick, your immune system needs support, and physical rest is one of the prime ways to allow it to function as it should. Whether it feels good or not, that stuffy nose, temperature, and increased mucous flow is there for a reason. Stay in bed if you can, and sleep as much as possible. If you can't sleep, practice quiet activities that don't require a great deal of mental effort. Get as cozy as possible – flannel sheets and soft pajamas or sweats are comforting, and if your pet wants to add to your coziness, take some time to cuddle!

Any respiratory infection will benefit from what's inelegantly called "forcing fluids"; in other words, drink as much water as possible. If you use a neti pot regularly, it can help with nasal symptoms, but don't be surprised if you can't rinse for as long as usual or if your nose is too sore to allow you to rinse at all. And of course, if you need to, see a doctor and follow medical advice! While antibiotics don't work against viral infections like a cold or the flu, secondary bacterial infections can set in, and they can become nasty if not treated.

Remember that there are eight different limbs on the yogic path, and asana is only one. Perhaps this is a good time to meditate, or to read about the yamas or niyamas, Again, however, perhaps your body simply craves a day of sleep and time away from the world's issues. This can be considered a form of pratyahara, or sense withdrawal.

When you are on the mend, it might be a good time to practice restorative or yin poses. After all that time sleeping, you might find yourself with a crick in your neck or a sore back, and simple asanas such as Cat-Cow might add to your returning sense of well-being. Move slowly, and listen to your body: when it's time to stop, do so and move into Savasana. Notice that this final pose is part of every vinyasa, as rest is the yin to the yang of movement. If it's good for asana sequences, why shouldn't it be good for you?

Feel better soon, and return to your normal practice when it's appropriate!

You Should Also Read:
Yoga for Respiratory Issues


Related Articles
Editor's Picks Articles
Top Ten Articles
Previous Features
Site Map





Content copyright © 2023 by Korie Beth Brown. All rights reserved.
This content was written by Korie Beth Brown. If you wish to use this content in any manner, you need written permission. Contact Korie Beth Brown for details.