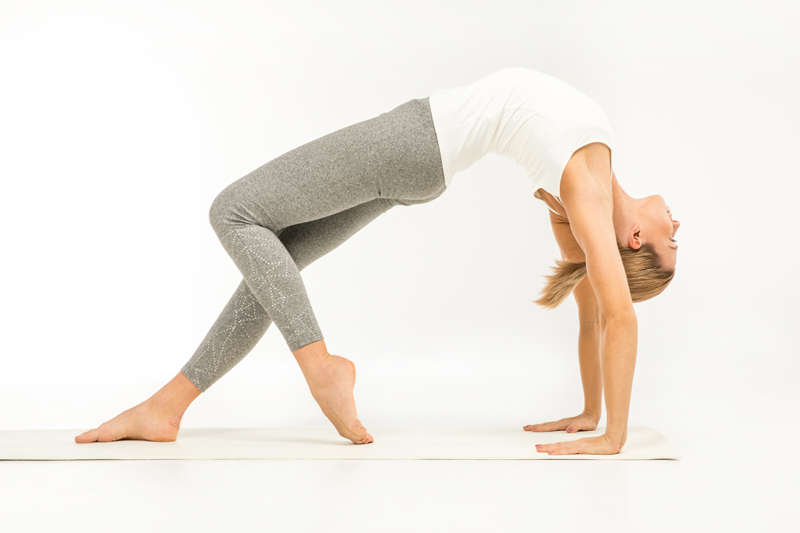 Yoga is unique in that it is at once a form of exercise, a form of meditation, and a philosophy for life. Those interested in furthering their understanding of the physical dynamics of yoga will enjoy reading Yoga Anatomy by Leslie Kaminoff. Part of a series of books published by the Human Kinetics press focusing on the anatomical demands of various athletic disciplines, this slim tome concentrates on the demands that yoga places on the body and the breath. As such, it's a great reference for those using yoga as a way to get and stay in shape, or for those interested in teaching.

Yoga Anatomy begins by discussing the way that yoga impacts the breath and the spine. The first chapters discusses the anatomical demands of breathing and how yoga affects these; the second focuses on the anatomy of the spine and how it is used in yoga. From here, the book divides into sections focused on different groups of asanas. Each listed pose is then given an anatomical diagram, a short explanation of the joints and muscles involved, how to integrate breathing into the movement, and notes on the obstacles that must be faced in moving in and out of each pose. This last section is extremely important, as there is discussion of possible injuries that can occur if proper alignment is not stressed.

The artwork in this book is stunning. Rather than use photography, medical illustrations by Sharon Ellis clearly depict the muscles involved in each asana, and, where needed, the way in which the muscles interact with tendons, joints, and bones. Color is used simply but with great impact to distinguish working muscles from those that are more inert.

This book is not written for a general audience, and those that are easily intimidated by scientific nomenclature will have a hard time with it. The tone is both scientific and professional, and can be construed as dry. The information in the first two chapters is presented in a narrative format, but one which must be read slowly and perhaps more than once. After this, the focus on individual asana is best used as a reference, perhaps best used in tandem with one's practice rather than as a sit-down-and-read-through book. Some asana variations are given, but this is not meant to be an instruction manual; the author assumes prior knowledge of each asana and gives no direction on how to achieve each posture. Rather, the experienced yogi/ni is presented with information that will further his or her understanding of what happens to the body during practice.

With that understood, this is an excellent reference to have on hand when reviewing a particular yoga sequence. It's best recommended for seasoned yogi/nis and those interested in teaching or writing about yoga.

Kaminoff, Leslie. Yoga Anatomy. Human Kinetics, Champaign, Illinois, 2007. ISBNL 978-0-7360-6278-7.

Disclaimer: I paid for my copy of this book with my own funds. I am not in any way associated with the author or with the publishing company.




Related Articles
Editor's Picks Articles
Top Ten Articles
Previous Features
Site Map





Content copyright © 2022 by Korie Beth Brown. All rights reserved.
This content was written by Korie Beth Brown. If you wish to use this content in any manner, you need written permission. Contact Korie Beth Brown for details.