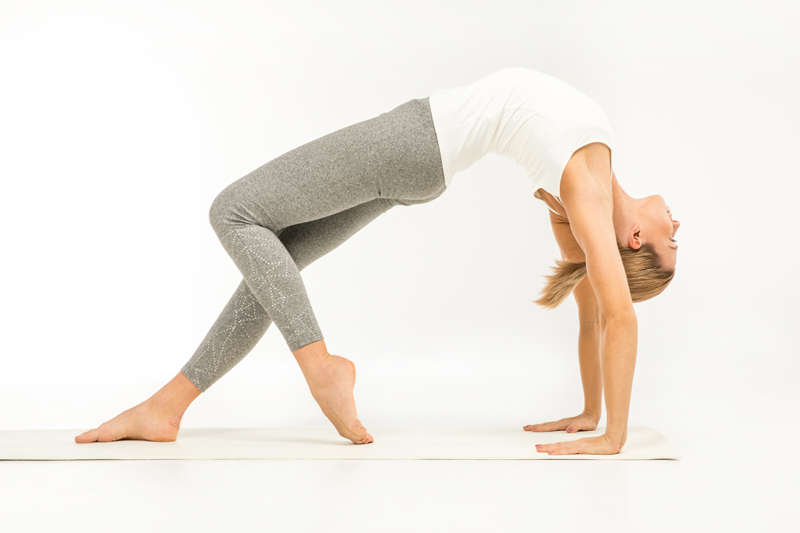 It's always a good idea to wear stretchy, form-fitting pants or tights when practicing asana in order to allow a teacher to easily check alignment and to prevent interference with movement. It doesn't hurt that this kind of clothing can be very attractive on certain body types. For others, however, shopping for yoga pants can be a nightmare in that every bulge seems to be on display. Where does one go in order to find asana pants that are comfortable, snug, and attractive?

Several clothing chains have attempted to fill this tall order at a variety of price points. Lululemon Athletica, perhaps the company most known for yoga clothing, has a variety of choices available. On the website, the customer can check both the inseams and whether or not selections are hemmable, a plus for those who are taller or shorter than average. Sizing is generally from 2 to 12 for women, which can be problematic for larger yoginis. For men, sizing follows the S/M/L/XL range. The price points at Lululemon are in the moderate to high range, with women's pants around one hundred dollars and men's around eighty. Beyond yoga, Lululemon also makes clothing for swimming, running and "athleisure" looks.

Athleta is another exercises clothing chain with a variety of styles for yoga and the gym. Sizing uses S/M/L/XL, and there is a smaller selection of colors and styles than can be found at Lululemon; however, the prices are ten to twenty dollars lower for comparable looks. Inseams are given on the website, as is extensive fabric details; there is no information about whether or not items can be hemmed. The look at Athleta is sportier than at Lululemon, as it makes clothing for a wide variety of sport and workout possibilities. Athleta markets to women only, and prides itself on customizing for female-specific workout and 'athleisure' needs.

Recreational Equipment, Incorporated, or REI for short, is a clothing 'cooperative' – one can choose to become a member and receive dividends that can be used for purchases. The company markets to both men and women, and carries many different brands for a wide variety of activities such as camping, hiking, biking, and the like. Recently, however, REI has begun to stock yoga clothing, focusing on brands such as Lucy and Patagonia for women, and prAna for both women and men - a plus when shopping, as it's easy to try on different brands and compare the fit. Lucy and Patagonia tend towards the straightforward and sporty, while prAna in particular will appeal to those who enjoy the 'haute hippie' look. The website gives information on materials and features, but details are sparser than on the Athleta site, and there is no information on inseams or hemming possibilities. Prices are commensurate with those at Athleta, but REI's chief advantage is its extremely liberal return policy, which guarantees full refunds for a year following purchase.

Sporting goods stores such as Dick's and department stores such as Macy's also carry yoga pants, generally focusing on traditional athletic brands such as Nike and Adidas. Because there are so many different athletic clothing brands, prices will vary (but so will the possibility of sales!) Like REI, the chief advantage in shopping at a sporting goods or department store is the variety. Brands such as Under Armour or Ideology are less expensive, with prices for a pair of pants or tights in the fifty dollar range.

Discount chains such as Target are yet another place to find yoga pants, and with prices in the fifteen to forty-five dollar range, these stores can be a great way to fill out a yoga pant wardrobe without breaking the bank. In addition, extended size ranges allow people with different body types to find items that work well for them. However, fabrics, colors, and styles are more limited.

Disclaimer: over the years, I have purchased yoga pants at each of these places. I do not work for any of these companies, nor have I taken money to mention their offerings.



Related Articles
Editor's Picks Articles
Top Ten Articles
Previous Features
Site Map





Content copyright © 2022 by Korie Beth Brown. All rights reserved.
This content was written by Korie Beth Brown. If you wish to use this content in any manner, you need written permission. Contact Korie Beth Brown for details.