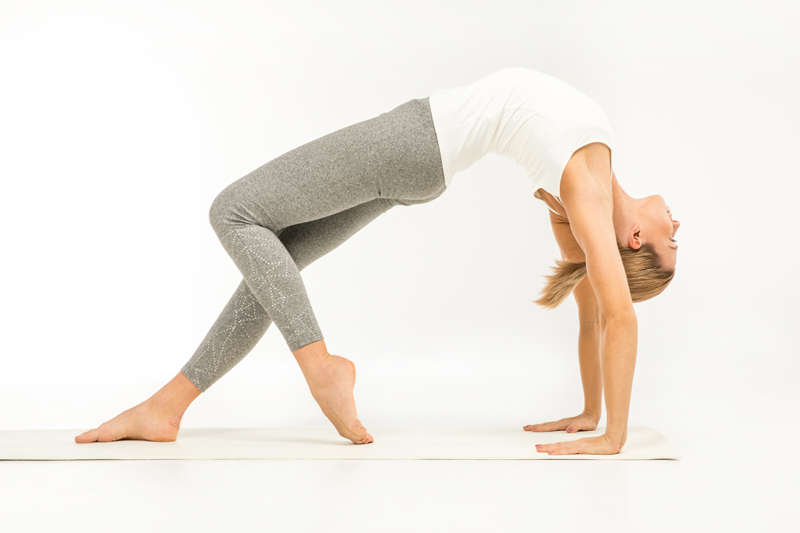 At some point, every yogi/ni on a borrowed mat has looked down and wondered who else has used it, and how long ago it has been washed. Generally, this is when the thought of buying your own surfaces. Given the current popularity of yoga, bringing your personal mat to class is certainly more hygienic, and probably more comfortable as well. Are you ready to take that step? How much do you want to spend?

Yoga mats are available at a variety of price points, from roughly seventeen to one hundred and thirty dollars. What causes such a wide variation? Materials, for one. Cotton and juts are used to make traditional mats, but American yogi/nis usually prefer those made from PVC, rubber, or "foam", the latter being a form of latex. Each material has its advantages and disadvantages; PVC, for instance, is the quintessential 'sticky mat' used by the yoga community, but the manufacturing process isn't necessarily eco-friendly. Mats made out of foam are better for the environment but pose the risk of allergens. Cotton and jute are used to make traditional mats, but can be less "sticky"; if you're interested in this kind of mat, look for one with bumps to help anchor your hands and feet.

A mat's thickness is another factor can drive the price skyward. In general, thicker mats are more stable (however, if a mat is too thick, it can interfere with balance.) Mats that are a quarter of an inch thick are generally considered luxurious, but can be heavy to carry. Travel mats, as the name implies, are much more portable – and less expensive! --, but at one-sixteenth of an inch, they don't give that much support. It's up to you to decide which trade-off is better for you and your lifestyle.

If you're very tall, it may be worth it to you to buy an extra-long mat. These are available in different materials and thicknesses, just like their shorter cousins. The added comfort during vinyasa movements, as well as during Savasana, may be worth the extra few dollars.

Other considerations that may up the price? Aesthetics for one; it's possible to find beautiful designs drawn onto one's mat, for a price. "Street cred" also adds to the cost: some companies are considered 'high end', with a price tag to match. Is the extra cost worth it to you? If you can, try out different mats before deciding on a particular company; if this isn't possible, ask around and see who recommends what company.

One final suggestion: consider purchasing your yoga mat from either a yoga studio that carries them, from a sports store that champions yoga, or else from a small business that focuses on yoga props and the like. By doing this, you are keeping your money inside the yoga community, supporting those that have chosen to make yoga their livelihood. In terms of ahimsa, this may be ethically preferable to the savings you would find at a big-box store or internet concern.

Disclaimer: My mat was purchased from Yoga Madre in Sierra Madre; my husband's was purchased from REI in Arcadia (both cities in California.) I am not affiliated with any specific mat companies.



Related Articles
Editor's Picks Articles
Top Ten Articles
Previous Features
Site Map





Content copyright © 2022 by Korie Beth Brown. All rights reserved.
This content was written by Korie Beth Brown. If you wish to use this content in any manner, you need written permission. Contact Korie Beth Brown for details.