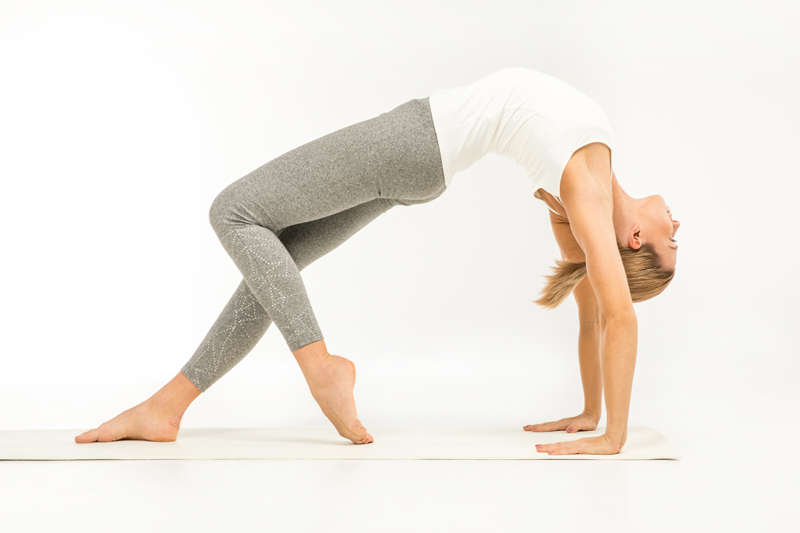 Utkata means 'fierce' in Sanskrit, and so it should come as no surprise that the asana with that name is designed to work some of the biggest muscles in the buttocks, legs, and thighs. Standing Forward Bend, or Uttanasana, works the back muscle and stretches the legs. Putting the two together provides a novel variation within Surya Namaskar, or Sun Salutations, but the integration of breath and movement gives this vinyasa a meditative punch of its own.

To try this, start by standing in Mountain Pose. As always, check your alignment. On an inhale, bring your arms overhead, making sure that your shoulders are solidly pulled down into their sockets. From here, exhale. Then grab one wrist with the other hand, and pull your body to the side, holding the torso as if flattened between two panes of glass. You don't need to bend far to feel the stretch along your rib cage and back. Take an inhale and exhale here if you like, and then come back up on the next inhale. Repeat on the other side. If desired, invert your handclasp and bend backwards as well. Then exhale as you bend forward and sit back in your chair.

Take another inhale here; you may even want to stay for a breath cycle or two while you work on your form. Make sure that your knees do not extend in front of your feet (you should be able to see your toes at all times) and bring your rear downwards, moving towards a position where the thighs are parallel to the floor. Keep the arms as straight and as closely aligned to the ears as possible. If you like the feeling of a backbend, you can bend up so that you are looking across the room rather than down at the ground, but the straight back position is also just fine if you prefer it.

On an exhale, bend forward into Uttanasana. Your knees will probably want to bend if you're not warmed up, and that's good – this will protect your lower back. Inhale yourself into Ardha, or Half Uttanasana, straightening your legs and your back. Exhale back into the fold. On an inhale, sit back into your chair. Exhale here. On an inhale, come up into a standing position, and exhale your hands to your heart.

Feel free to include variations within your Standing Forward Bend, such as increasing the stretch by slipping your palms under your feet or working to bring your torso closer to your legs. You can also include a standing twist on each side from Ardha Uttanasana. However you construct this vinyasa, remember to exhale when moving towards your body's midline or towards the ground, inhaling when you move away or upwards. And be sure to work using the principle of sukha-sthira-asanam! (See the related article for more information.)

Use this sequence on its own, in addition to, or in lieu of Surya Namaskar; it provides a nice warm-up if you choose to work on poses by grouping (standing, seated, twists, supine) without connecting them. Remember, as always, to mindfully connect breath and movement, and work with intent and joy.

You Should Also Read:
Uttanasana and Ardha Uttanasana
Sukha-Sthira-Asanam


Related Articles
Editor's Picks Articles
Top Ten Articles
Previous Features
Site Map





Content copyright © 2022 by Korie Beth Brown. All rights reserved.
This content was written by Korie Beth Brown. If you wish to use this content in any manner, you need written permission. Contact Korie Beth Brown for details.