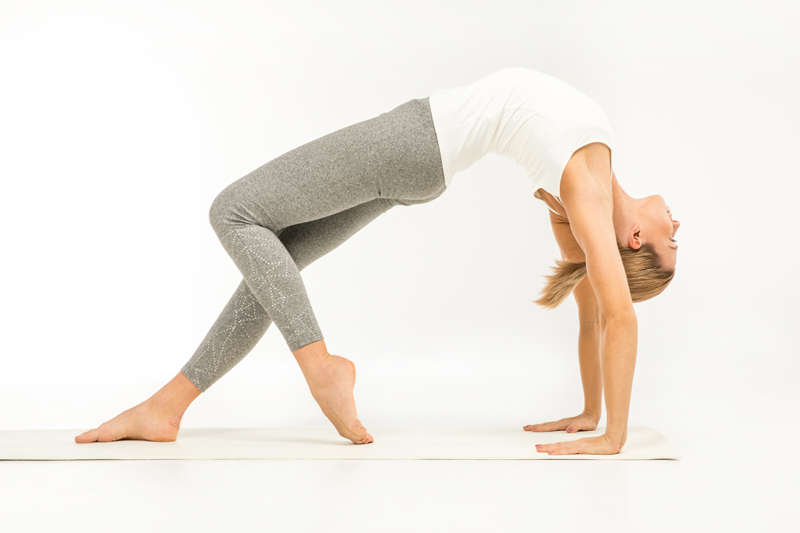 Tennis can be fun, highly competitive, or both. The game offers cardiovascular work as well as muscle strengthening, and the multi-directional nature of the running can strengthen both balance and proprioception. The social nature of the sport makes it a great go-to for those who don't like to exercise alone, and it's a great way to fight isolation, a plus for teenagers, seniors, and those battling depression. With all that in mind, tennis doesn't provide a balanced workout, and the high-impact nature of the sport can result in injuries to the tendons and joints of the body. Yoga to the rescue! A yoga practice can balance out your body and help provide the focus to improve your game.

Tennis players typically use one arm and shoulder to work the racquet. This can cause overuse injuries on one side of the body and actually set the other side up for problems due to the imbalanced nature of the sport.

Garudasana, or Eagle Pose, is particularly useful for tennis players, as it stretches one shoulder at a time, strengthening the other in the process. Standing Eagle also provides stretching and strengthening for the legs, as well as a balance challenge that will help improve both your focus and your ability to move quickly in many directions. When combined with Agnistambhasana, or Fire Leg Pose, the entire torso is evened out as you stretch the opposite shoulder and hip at the same time. Please note that Fire Log, also called Double Pigeon, is an intermediate to advanced pose and should be learned slowly – use the variations until your hips are open enough for the full pose.

Gomukhasana, or Cow Face Pose, is also helpful in stretching the shoulder girdle and upper arms. While the pose is generally taught using a towel or yoga strap, Yoga Journal suggests using your tennis racquet for stretching on the court. This is another pose that needs to be taken slowly, but with daily practice your shoulders will open up.

Twists are particularly useful for stretching the spine and its associated muscles, which get compressed during the sudden movements of tennis. A simple way to work twists into one's stretching routine is to stand with a chair next to you. Twist your upper body in the direction of the chair. On your exhales, straighten your spine; on your inhales, twist. Repeat on each side.

Pranayama and meditation also offer benefits to the tennis player. Breathing exercises are helpful in maintaining and improving cardiovascular fitness, and meditation will help to improve your focus. Both of these will then improve your ability to play the game. You can use a meditation app on your smart phone to learn simple techniques for both breathing and meditation; these can also help you keep track of your progress in these areas.

If you find these isolated yoga pieces helpful to your tennis game, you might well want to find a class that works with your schedule and attend it weekly. The combination of yoga and tennis will keep you active for many years, and the social benefits of both will do wonders for your mental state.



Related Articles
Editor's Picks Articles
Top Ten Articles
Previous Features
Site Map





Content copyright © 2022 by Korie Beth Brown. All rights reserved.
This content was written by Korie Beth Brown. If you wish to use this content in any manner, you need written permission. Contact Korie Beth Brown for details.