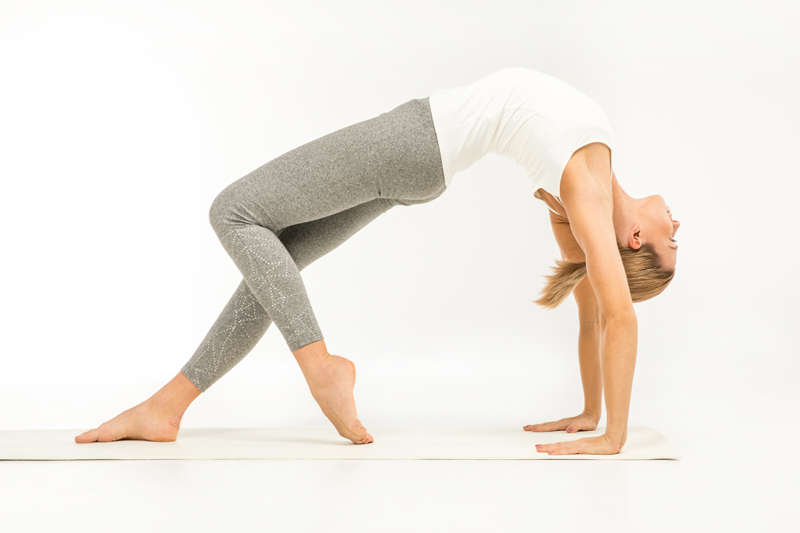 Some days are so busy that there's no time for a workout. Some days are so stressful that we simply have to take time for meditation, however brief. And some seasons of life prevent us, for whatever reason, from being able to participate fully in traditional classes. When you need some yoga in your life, consider using a chair as a prop and taking ten minutes to connect with your body and soul.

If you're short, you'll need to slide forward to allow your feet to rest on the ground; if this is true, take a moment to pull your shoulders up, back, and down to make sure that your spine is straight. (Those blessed with longer legs won't have this problem.) Bring your hands to your heart and take a moment to connect with your breath. Then raise your arms overhead, bringing them in line with your ears but keeping your shoulders plugged into their sockets. Bend at the side to stretch your ribcage, shoulders, and spine, keeping your breath steady. Bring your arms back overhead and repeat on the other side. Try this again, this time bringing the shoulder back any amount so that your upper torso is all in one plane; it helps to imagine that your body is being pressed between two plates of glass. If your top arm needs to bend, let it, but keep it in line with your ear.

From here, place your hands on your hips and bend forward, spilling your torso over your legs. You'll find yourself in a seated forward fold, with your knees bent. Breathe here. Then reach your right hand to your left thigh, bringing your body into a seated twist with the top hand reaching for the ceiling. Repeat on the other side. Then return to a seated position with your hands on the chair arms or on your hips. Bring your right leg across your left one, forming a bent '4' with your legs. Straighten your back and bend forward over the leg only as far as works for your body; you'll still get an intense stretch for your hips.

Give your upper body some love by sitting in the chair as before, with feet firmly planted on the ground and a straight spine. Bring your arms out to the side and then forward, crossing one arm under the other. Reach around and clasp your palms if you can; this will stretch the shoulder of the top arm. Repeat on the other side, and come back to center. Reach your right arm behind you to grasp the back of the chair, and twist your torso to the right. Repeat this on the other side.

Stand up and face the chair, stepping your feet away at an arm's distance. Bend down and take 'puppy dog'; you're mimicking the shape of Downward Dog, but your arms are resting on the chair seat instead of on the floor. This stance can also be done against a desk if desired.

When you are finished, return to your seated position. Again, if you are short, you may not be able to plant your feet fully on the floor and sit back; try sitting in Sukhasana or Easy Pose instead, with your legs folded and back straight. Your palms may face down (for grounding) or up (for spiritual connection) as desired. Take a slow inhale and a slow exhale. Then bring your hands back to your heart in prayer position; bring them to your third eye; and then bring them overhead while you bow. Namaste! Return to your day feeling supple and more relaxed.



Related Articles
Editor's Picks Articles
Top Ten Articles
Previous Features
Site Map





Content copyright © 2022 by Korie Beth Brown. All rights reserved.
This content was written by Korie Beth Brown. If you wish to use this content in any manner, you need written permission. Contact Korie Beth Brown for details.