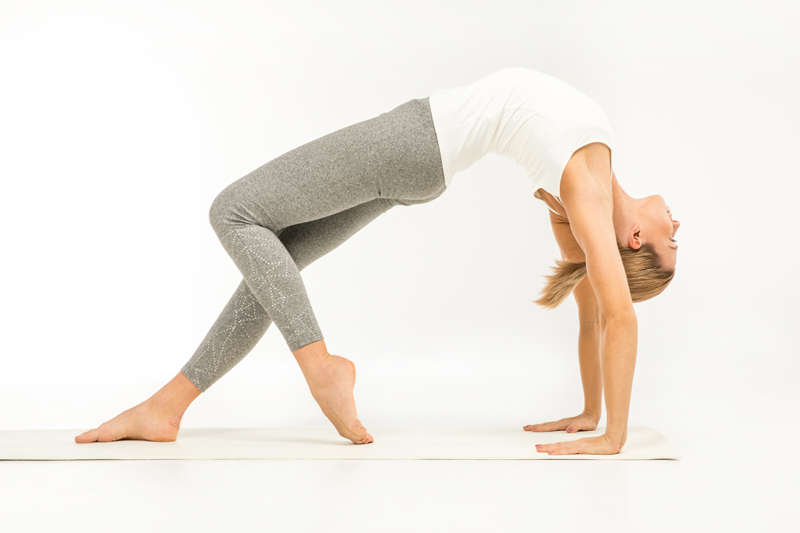 No matter how they start, all yoga classes end in the same way, with students spending time in the pose known as Savasana, or Corpse Pose. The teacher may lead the students in progressive relaxation, talk them through a guided meditation, or simply sit in silence as they lie there, arms and legs extended out in an approximation of Michelangelo's L'Uomo Vitruviano. These are all different ways of guiding students into practicing what some consider to be the most difficult asana of all, a series of moments spent actively pursuing the opposite of pursuit. Is it possible to be fully in the moment yet free from the need to move to the next? Savasana gives us the chance to work with this challenging contradiction.

In Corpse Pose, we are invited to back away from the innate tendency to look outward, get things done, and focus on life's changing circumstances. Instead, we lie there, watching our minds jump from one idea to the next, witnessing the eternal struggle to "let go and let God," as the saying goes, before surrendering to the deep relaxation that our bodies and minds need. Sometimes we find ourselves falling asleep; at other times we struggle with our mind's continuous juxtaposition of thoughts, ideas, desires, and constant need for stimulation. Ideally, we revel in the chance to just be, rather than do.

Is it any wonder why this pose is arduous? It challenges every assumption we have about success in our fast-paced world. This is why it's important to take this pose seriously, to set it up as assiduously as we set up for any other asana. We may be more able to relax with a bolster under our knees, or with a blanket shielding us from drafts. An eye pillow is wonderful if the lights in the room distract us from our aim. Sometimes, allowing ourselves to use props is yet another surrender, as their use exposes our physical vulnerabilities to the rest of the room. Can we allow ourselves to use these props without shame?

Often, setting up the physical body is only the first in a series of tasks. Some of us need something to focus the mind, which is why a guided meditation can be so useful. During a silent Savasana, it's helpful to focus on the breath as it moves in and out of the body. What are the physical qualities of the breath? How does it feel in the nose, on the back of the throat, in the stomach area? As we watch it, can we refrain from directing it and just let it be what it is? When our minds wander, can we calmly and compassionately pull them back to our focus?

A silent practice of Corpse Pose can also be a time for mantra, or repeated phrase or prayer. As we lie quietly, we feel the words moving through our mind and body. Perhaps we align the mantra with our breath; perhaps we visualize the words as if watching a movie against our closed eyelids. Can we do this without struggle, without the need to push? Can we allow the mantra to become one with our resting body?

The word "yoga" means "union", and this pose is the finest expression of this idea. The culmination of all previous poses, it's the time that we allow ourselves to finish what we've started – this particular yoga class – and then rest, allowing time to heal our bodies and minds before going forward with the next indicated action. Taking Savasana seriously means giving ourselves time for balance, for bringing together the active moments in life with the passive receiving of renewal. After asana practice, this final pose allows us to bring balance into our lives, uniting movement with rest and our minds with our bodies. Do we allow ourselves this gift?

You Should Also Read:
Using a Mantra


Related Articles
Editor's Picks Articles
Top Ten Articles
Previous Features
Site Map





Content copyright © 2022 by Korie Beth Brown. All rights reserved.
This content was written by Korie Beth Brown. If you wish to use this content in any manner, you need written permission. Contact Korie Beth Brown for details.