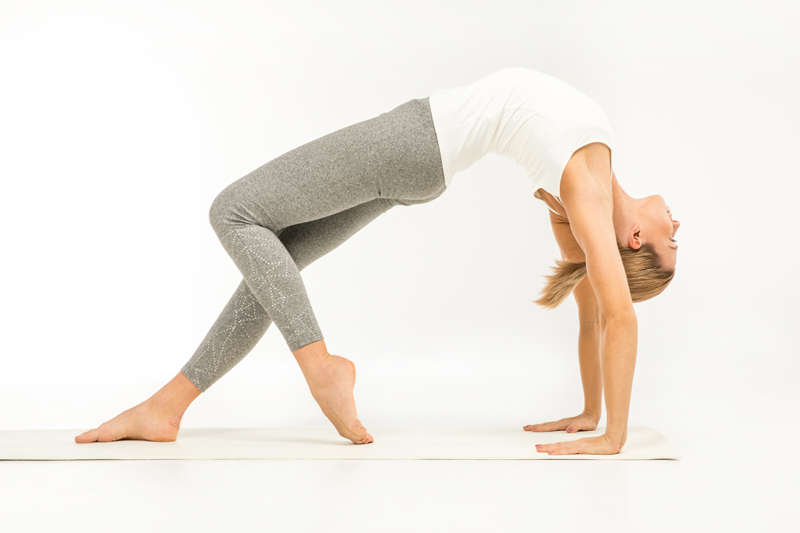 The formula for weight loss is deceptively simple: if one uses more energy than one takes in, the body will burn stored energy, otherwise known as fat. Therefore, weight loss is directly tied to how many calories are eaten in relation to how many the body needs. In general, aerobic exercise burns calories, where non-aerobic exercise builds muscle. Since most styles of yoga are not considered aerobic exercise, yoga is not scientifically regarded as a way to lose weight. So should people looking to lose weight reject gentle forms and practice only vigorous forms such as ashtanga?

This type of reasoning is overly reductive, and neglects a few hard truths about exercise and weight loss. For one, vigorous aerobic exercise is simply not possible for the majority of those beginning a regime, but gentle forms can eventually lead to increased ability. In addition, weight loss is truly more connected to how much one eats than to the amount of exercise one does. Any kind of non-vigorous exercise (such as walking, Pilates, etc), is more tied to health than to weight loss per se, yet the health benefits of exercise have been conclusively proven, even for those who are overweight. Thus, it makes sense to separate the issues: weight loss is about eating, while exercise is about health.

Yoga is well-known for its proven mind-body benefits, including its ability to help those with mood disorders, many of which are tied to overeating. There is also conclusive evidence that yoga can boost creativity and energy, both of which can help with changes in behavior. Therefore, if the yogi/ni uses the practice as one piece in an overall attempt to live better, yoga will help with weight loss.

The current focus on the 'ideal yoga body' can actually be detrimental to weight loss efforts. Comparisons of one's imperfect body to the others in a yoga class is a well-trodden road to disaster, creating a barrier between what the individual is and what s/he thinks s/he should be. And this separation, which can lead to distorted body image and negative self-thought, can actually worsen a person's relationship with food. The individual has thus effectively lost one of the key tools that yoga provides for self-improvement – an enriched relationship with the self.

An hour of asana followed by a dinner of fried food and saturated fat is not going to effectively improve health – but that hour of asana will allow the individual a time to notice how breath and movement work together. This focused attention can, if the individual chooses to pursue it, lead to increased awareness of how particular foods and the size of the meal make the individual feel. With continued observation, the way that yoga improves concentration and focus can indeed help someone to make the changes necessary to drop weight.

Asana is only one of the eight limbs of yoga, and the other limbs are equally likely to help the practitioner create changes in eating patterns. For a start, breath work and meditation will help the yogi/ni to better work with pressure, finding alternatives to stress eating. Someone who works with the yamas and niyamas is more likely to investigate individual reasons for gluttony and find alternatives. Dharana, or spiritual study, can lead to learning about the connections between the Standard American Diet (known elegantly by its initials as "SAD"), the state of the world in terms of resource consumption, and the individual's health. Any or all of these can provide incentives for changing patterns, the essential work needed for weight loss.

Ultimately, the best way to lose weight is to practice self-love. This includes changing a variety of behaviors, including one's patterns of eating. Yoga can be a valuable adjunct to self-improvement, and science has demonstrated a connection between asana and flexibility, strength, tone, and improved mental function. While the scientific research on the relationship between yoga and weight loss is mixed, a steady practice can nonetheless help with the factors that, left unattended, can negatively affect one's eating patterns. In the end, this translates into better digestive function, better health, and yes, a better relationship between the individual and his or her body.




Related Articles
Editor's Picks Articles
Top Ten Articles
Previous Features
Site Map





Content copyright © 2022 by Korie Beth Brown. All rights reserved.
This content was written by Korie Beth Brown. If you wish to use this content in any manner, you need written permission. Contact Korie Beth Brown for details.