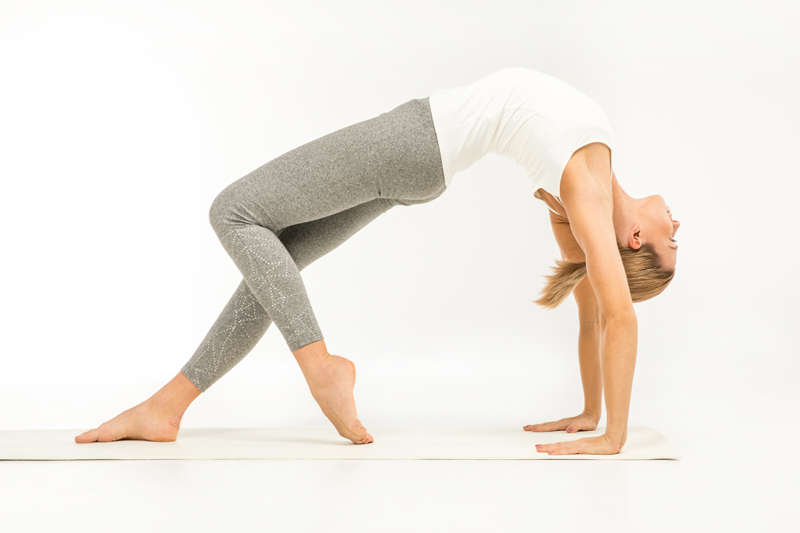 It's summertime, and the temperatures in the city soar. Rather than hiding inside a yoga studio, why not take it outside? And, rather than spending time in a city park (nice as that is), why not combine your yoga with a beach, or even a desert trail? Hiking offers cardiovascular benefits, while yoga's ability to stretch and strengthen the body evens out the workout. And practicing asana in the great outdoors can do wonders for the soul.

Trail yoga offers advantages for the body that can't be found in the studio. When you're taking asana in the wilderness, you're moving into poses while standing, sitting, or lying on sand or dirt rather than a smooth man-made floor. This means that the surface is more uneven, which engages your proprioception abilities – in other words, you'll be balancing differently. Any wind will only add to the challenge. Your skin and muscles will also react differently to the varying outside temperatures, while your senses will react to the different sensations. Additionally, interspersing postures within a hike will add an element of cross-training to the adventure, and keep your muscles from tightening up during the effort. You can still expect some soreness afterwards, but it will feel better!

Chances are you're not going to want to hike with a mat on your back, but that doesn't have to deter you from poses that bring the rest of your body in contact with the trail. If you carry a small towel and some hand sanitizer, you can quickly clean off trail dust; besides, you're going to shower and wash your clothing afterwards! Just make sure that you've found a spot that's relatively free from rocks or other sharp objects that might tear clothing or skin. A round of Cat-Cow or Surya Namaskar is great for opening your heart and spirit to the landscape, and it works as well for a hiking warm-up as it does for a studio class. (If you're truly squeamish about lying down in the dirt, half Sun Salutations can be substituted.)

Poses that elongate the back of the body, such as Uttanasana, or Standing Forward Bend, will provide much-needed stretch to the working muscles, and can be practiced with or without wearing your hiking shoes. Vrksasana, or Tree Pose, is a great way to practice balance and stretch out mid-trail. If your back starts to bother you, try a few minutes in Trikonasana on both sides.

While you probably won't be packing props, don't be afraid to use what you find on the trail. A tree can help with balance for Warrior III, as can a wall for Half-Moon. A picnic bench, for example, makes a great prop for a half Downward Dog or for Standing Pigeon. In addition, the table part of the bench is great for Savasana!

Take the time to meditate as well as move. Sitting practice can be done anywhere you can keep your back straight and get comfortable, and it's nice to invite the trees, plants, and rocks to join you. Walking meditation, of course, is tailor-made for the trail; pause the conversation and take the time to either focus on the movement of your body a la traditional Vipassana practice or to drink in the messages from world around you. Of course, the time-tested trail meditation will get snickers, but it drains stress and brings you into direct contact with nature. Go ahead, hug a tree – I do it all the time!



Related Articles
Editor's Picks Articles
Top Ten Articles
Previous Features
Site Map





Content copyright © 2022 by Korie Beth Brown. All rights reserved.
This content was written by Korie Beth Brown. If you wish to use this content in any manner, you need written permission. Contact Korie Beth Brown for details.