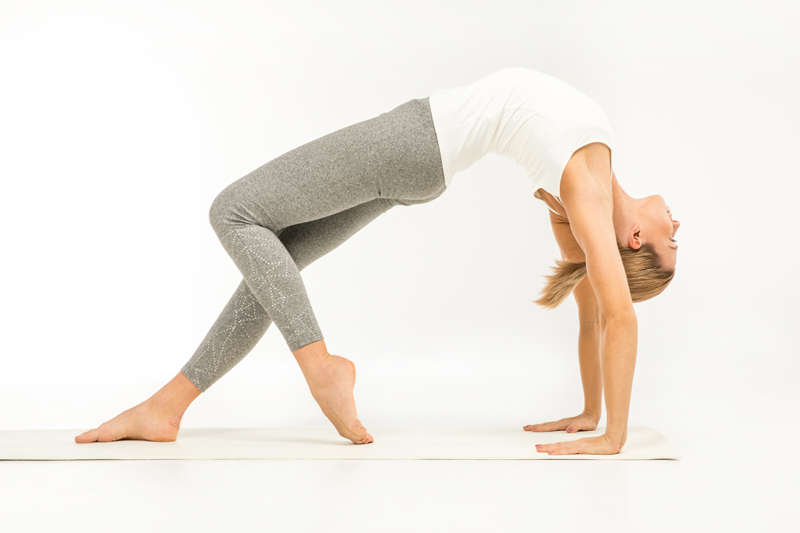 Consider the following situation: you are in the middle of class, moving through and staying in Warrior III. Your drishti, or focal gaze wavers, and your field of view takes in the person to your right, who appears to be holding the pose beautifully. The thought flashes through your mind that she could easily pose for a yoga calendar, followed by a list of ways in which your manifestation of the pose is lacking. At this point, you fall out of the pose. What happened?

As Westerners, we are raised to view the world as a system of discrete entities. We study math in math class, and science in the laboratory. We go to the gym to work out, to the grocery store for physical nourishment, and to a house of worship for spiritual fulfillment. Because of this, we are programmed to compare and contrast: this idea is different from that one, and to get things done, we make a list of separate steps.

In small doses, this kind of thinking can be extremely useful. The problem arises when we over-identify with this idea of separation. To cure our diseases, we go to a doctor, who prescribes medicine, instead of looking at our overall lifestyle and what we can tweak to live in a healthier manner. As community members, we pass laws to rid our cities of the homeless rather than treat the problem as a complex web of inter-related reasons that need to be addressed before everyone can afford housing. And as voters, we look to sound-bites and simple solutions to the complex problems that address civilization.

In the same way, we divide our yoga practice into different asanas, separating "prep" poses from "advanced" ones. We strive to learn alignment, which is good for our bodies; however, we then come to believe that there is a 'right way' and a 'wrong way' to be in a particular pose. We compare our bodies to the ones on the other mats, and find fault with them.

What if there were another way to live?

Obviously, this question is disingenuous. As yogi/nis, we strive As committed yogi/nis, we strive to move our understanding of the world away from the idea that we are separate from everything else, moving instead into an understanding that we are part of the whole. When we realize this, we interact with the world differently; we begin to live from a larger, more expansive perspective. This shift can be phrased as the movement from self to advaita, or non-duality.

To return to the yoga class: what if the only difference between a 'prep' pose and the 'real pose' was the time in which each exists? In other words, what if your nascent Warrior III and your neighbor's beautiful Warrior III were actually one and the same? What if the reason we fall out of a pose when we compare our bodies with others is the fact that the comparison has caused our minds to leave the pose, and our body is merely following suit? What if our job on the mat is not to change our bodies, but rather to be one with them in this particular moment? What if the pursuit of a pose is as, or even more, important, than the pose separate from the prepping and study and practice?

The term advaita is generally used to describe the philosophy of Vedanta, which holds that there is no separate Self from the rest of the world, and that what we seek is already inside us. At the same time, it's an important concept for yogi/nis who seek to explore poses beyond a physical plane. Should we practice asana or pranayama? Should we try sitting or walking meditation? Should we focus on our own enlightenment, or work to improve the world?

From a perspective of advaita: what if the answer to all the above questions is 'yes'?

You Should Also Read:
Setting An Intention
Namaste
Hygge, Santosha, and Life


Related Articles
Editor's Picks Articles
Top Ten Articles
Previous Features
Site Map





Content copyright © 2022 by Korie Beth Brown. All rights reserved.
This content was written by Korie Beth Brown. If you wish to use this content in any manner, you need written permission. Contact Korie Beth Brown for details.