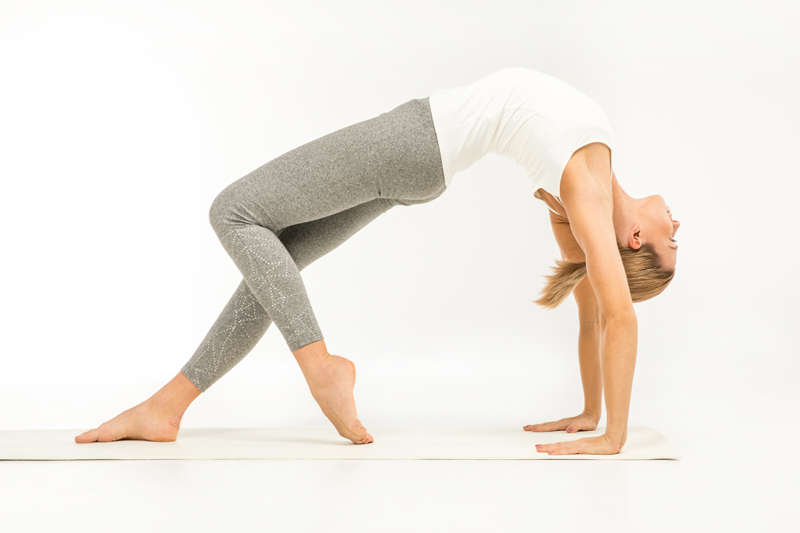 In her book Yoga and Vegetarianism; the Diet of Enlightenment, noted yogini Sharon Gannon posits the idea of vegetarianism being intimately linked to a yogic lifestyle. Many agree with her, following food plans that eschew animal products. Other yogi/nis, however, do eat meat for a variety of reasons. How should each practitioner approach food choices through a yogic lens?
Ahimsa, the first of the yamas, or ethical components of yoga, focuses on the idea of practicing compassion in all areas of our lives. One way to do this, of course, is to refrain from eating animal products out of a belief that it is a kinder, gentler diet. Proponents base their argument on two essential reasons. Today's meat production largely uses a cruel, factory-based farming system, indeed the antithesis of ahimsa. In addition, many people believe that eating meat "lowers one's vibrational energy," and that vegetarianism is therefore psychically 'cleaner'.

Given that we live in the meat-centric West, however, the arguments over 'spiritual purity' can in themselves become violent. When yogis react to meat-eaters with condemnation, the reasons for vegetarianism are lost, and those espousing a spiritual lifestyle become guilty of what Buddhist practitioners call "the stink of Zen," alluding to the sense of supremacy that's antithetical to the intent of the practice. Yes, it's ridiculous that so many people react so strongly about the idea of not eating meat, but what kind of effect do vegetarians bring to the world when they counter in kind?

Two other questions come into play here as well. First of all, eating disorders have been on the rise for several decades now. Anorexia, bulimia, and binge eating are well known, but another ugly form of the disease is orthorexia, or taking the 'eat clean' philosophy to such an extent that it becomes detrimental to one's well-being. Yes, vegetarian eating can indeed be healthier than a meatiest diet, but it can also cloak overly restrictive eating patterns that arise not from a wish to be healthy and kind but from a desire to maintain complete control over one's diet. It should go without saying that eating disorders promote violence against one's own body, and as do not create ahimsa.

One of the best reasons for eating meat is, surprisingly, for the pursuit of better health. Even Aryuvedic practitioners will agree that, for some doshas, a bit of eat can be beneficial. Some diseases, such as diabetes, require a higher percentage of protein and a lowered amount of carbohydrate consumption, which can be more difficult for vegetarians and vegans. Scientists have determined a surprising link between vegetarianism and colorectal cancer, as well as problems with lower bone density. Certain nutrients, such as vitamin B12 and omega-3 fatty acids, are best found in animal products.

With that said, it's important to keep in mind that nothing needs to be black and white. Flexitarians, for example, generally eat vegetarian but have the occasional helping of meat. It's also possible – and healthy! - to cut back on animal consumption without eliminating it entirely, with or without attaching a label to one's food plan. Food writer Mark Bittman espouses a 'Vegan Before 6p' philosophy, for example. Yoga Journal, published by long-term yoga teachers, now publishes a variety of recipes to satisfy pescatarians and omnivores in addition to those on stricter diets.

Vegetarianism and veganism is one way to practice ahimsa, but one can also look for ethically-sourced meats, work on eliminating unnecessary food waste, and giving thanks for one's food in the manner of many Native American tribes. The important point is to eat consciously and in a way that promotes compassion for oneself and for the rest of the world. How one decides to do this is a personal decision that, like others regarding one's body, should be respected by the yogic community at large.

Disclaimer: I am not associated with Sharon Gannon, Mark Bittman, or Yoga Journal, and have paid for their works with my own funds.

You Should Also Read:
Yoga and Nonviolence
The Eight Limbs of Yoga
Organizing One's Practice


Related Articles
Editor's Picks Articles
Top Ten Articles
Previous Features
Site Map





Content copyright © 2022 by Korie Beth Brown. All rights reserved.
This content was written by Korie Beth Brown. If you wish to use this content in any manner, you need written permission. Contact Korie Beth Brown for details.