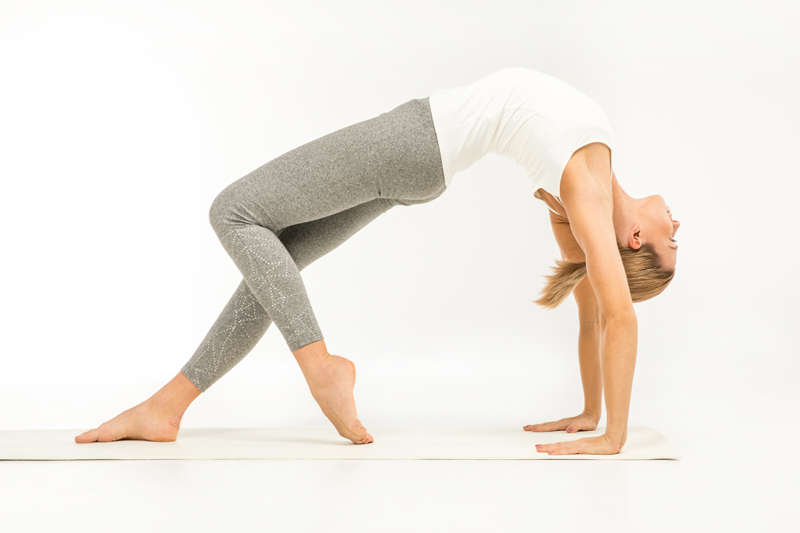 In many ways, a Yin home practice is particularly user friendly. There's a possible initial investment in props, but otherwise all one needs is a mat, a timer, and the space to set up. As a balance to active studio practices, one can target a few Yin poses and use them as a precursor to pranayama or to meditation. Or, should one want to try a complementary approach to Western medicine, one can adapt a sequence that focuses on a particular Chinese meridian.

As the name implies, a Yin practice is designed to be quiet and relaxing. One takes a pose at a comfortable level of stretch, never trying to push to one's edge. Props are used to literally prop up the body – in letting the prop give support, one is able to more fully relax into the posture. One then holds the position for a length of time to allow connective tissue to stretch at a moderate level. As in all forms of yoga, the emphasis is on sukha and sthira, or ease and steadiness. After the pose, one moves mindfully out and sets up for the next, repeating the process. Because there is a minimum of push, one faces the workings of the mind while holding the pose – for some, this may be the first glimpse of Zen meditation, where one attempts to let the mind ponder without holding on to any resultant ideas. This is bare attention meditation at its finest, as well as a means to make actual seated practice easier.

When beginning a Yin home practice, there's no need to "re-invent the wheel" in terms of sequencing. Sarah Powers' book Insight Yoga offers five sequences tied to specific Chinese meridians, along with an introductory discussion of what these meridians are and how they tie to specific parts of the body. She gives both a short and long sequence for each meridian, allowing the practitioner to determine the amount of time for each individual session. Those interested in going further should check out Paul Grilley's Yin Yoga: A Quiet Practice, which offers a chapter on designing a home practice as well as three sample routines. As more people learn about the Yin style, Yoga Journal has become more forth giving with Yin sequences as well.

It can be argued that using a video for Yin Yoga is contradictory, as it introduces extra stimulation to a practice focused on the opposite. However, for learning the poses away from an actual class, the visual cues are indeed helpful. Both Grilley and Powers offer sequences that one can follow that can be found on YouTube as well as on the respective web sites for each teacher. There are many other Yin teachers offering virtual classes as well. Always watch any exercise video all the way through before attempting the practice, and never, ever do anything that hurts. Trouble with a particular pose? Move to a moderate level of stretch, try a modification, use props, or substitute another pose in its stead.

Remember that shorter practices done more often are more beneficial than a single long practice, and plan accordingly. Try starting with a ten minute practice three times a week and see what happens. This may provide incentive for further exploration into the Yin style, into the study of Traditional Chinese Medicine and meridian theory, or into a kind of meditation previously undiscovered. Happy trails!

You Should Also Read:
Yin Yoga
Insight Yoga - book review
Cobra, Sphinx, and Seal Poses


Related Articles
Editor's Picks Articles
Top Ten Articles
Previous Features
Site Map





Content copyright © 2022 by Korie Beth Brown. All rights reserved.
This content was written by Korie Beth Brown. If you wish to use this content in any manner, you need written permission. Contact Korie Beth Brown for details.