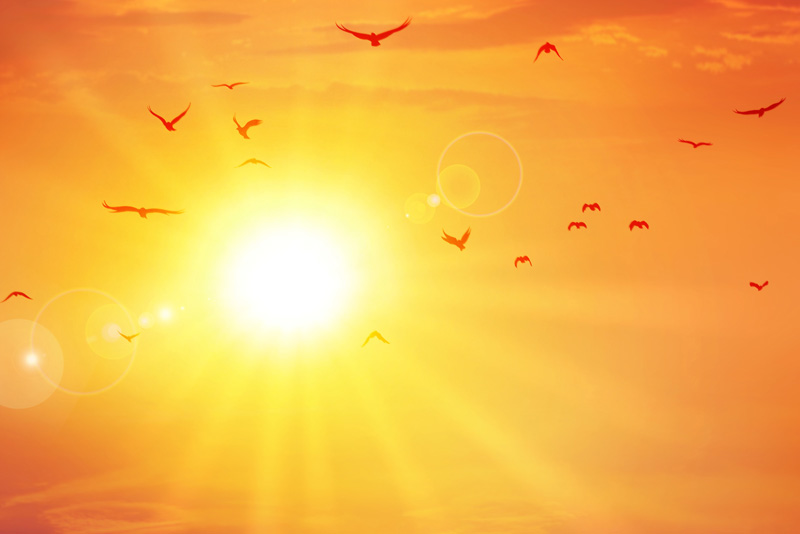 It´s about attitude. This includes Forgiveness and articles from the Book of James.
40 Days to a Richer Life


Do you want to make a great change in your life? Make a commitment to meditate on God's word everyday for forty days.
A Callused Spirit


Are we making an effort to fit in to the current culture? How long does it take to become calloused to evil?
A Christian's View of the Environment


Life in this world is short. In the Bible it is described as a vapor in the wind - very brief compared to an eternity in heaven. We have the assurance that we are not permanent citizens of this world with all its troubles. Can we afford to be indifferent to the problems of this earthly existence?
Aggravation - Biblical Remedies


It seems that it's people that spark the most anger in me. With so many people and so many personality types, and so many people with their own problems, how am I to get along with everyone? How can I maintain a sweet godly attitude?
Arguments, Patience and Humility


Tensions are high. I prefer to avoid heated discussion. Yet Christians aren't to run away from conflict.
Articles About Stress


Dealing with stress, worry, and anxiety with the Bible.
Attitude Adjustment


How do we derail the inevitable chain reaction that leads to a bad day and to sin?
Be Happy


What is the true meaning of life? Is it to be happy? If so, what is the definition of happiness?
Beauty of Imperfection


Beauty in imperfection is an unfamiliar and uncomfortable concept for me- the perfectionist.
Bible Verses Provide Reasons to be Brave


God gives us peace, security, and reasons to be brave - recorded in the pages of the bible. Here are twenty-five reasons to be brave.
Book of James


These articles address the practical wisdom from the Book of James in the Bible.
Chipping Away a Judgmental Attitude


In this series, we are chipping away all that doesn´t look like the Christian you want to be.
Chipping Away Guilt


Are you carrying around a load of left over guilt?
Christian Arguing


Christian living is not easy. We will have disagreements. We will fight.
Defined by Humility


It seems that many Christians tend to be self-absorbed and to bear a strong resemblance to non-believers. Humility, gentleness and patience were lacking in the Ephesians and are still lacking in many Christians today.
Discontent


The sound of discontent – wanting something other than what we are given. Are we never happy with what we have?
Dividing Lines


I'm wrote this article during a particularly heated and divisive election year. That election is over, but from experience I realize there will be more subjects to argue about.
Expect More


What do you expect? Do you expect to merely get along? Do you expect to be simply satisfied? Jesus taught people to expect more.
Expectations


One doesn´t have to live very long to learn that life includes disappointment and victory seems to be living life with as little disappointment as possible.
Generosity of Grace


God loves generosity. His plan for giving is an amazing supernatural mystery.
Greed


In our capitalist society, it is the opinion of many that greed is a good thing – indeed, a healthy way to succeed and to get ahead. Lets look at how greed affected the life of a man named Lot.
Greetings That Sing


Have you experienced the good feeling that comes with meeting someone who is genuinely happy to see you?
How Do I Forgive ?


American Idol contestant, Mandisa forgave Simon Cowel. Can you forgive someone who has hurt or humiliated you?
Husbands, Love Your Wives


Although many like to dwell on the command that wives submit to their husbands, Peter and Paul made sure to round out their teaching to include husbands as well.
Judgmental Christians


When we learn the truth about God´s law, do we use it to build people up or tear them down?
Just One Lie


We are constantly bombarded with the worldly message that we have to make out own luck and we must fight fire with fire. Is a lie really a sin?
Life With Purpose


Do you believe that you have a reason for being here? Or do you feel like a tiny insignificant speck on this planet amid billions of other people?
Looking for Love - Friendship


Phileo is the Greek word for love that describes friendship or that warm feeling or strong preference we have for certain people. Love is incredibly powerful. Receiving it gives us a sense of well-being, self-worth, optimism, and can even improve health.
Looking for Love - Pure Love


To love is the most important commandment. Maybe that's why it seems to be a deep need within all of us.
Looking for Love - Romance


If we are honest, the words "I love you" may be the most desired sentence we will ever hear. It makes women blush and men stand up straight and square their shoulders.
Loving Enemies


There is a lot of talk of love in the world today, especially in Christian circles, but do we really mean what we say?
Me First or God's Word First ?


If I can't get along with my brothers and sisters in Christ how will I make a difference in the secular world?
Retaliation According to Jesus


Jesus taught about choosing to react out of our strength instead of our weakness.
Right and Wrong


Who sets your personal rules and regulations? Are they the boundaries passed on from childhood or the rules that your peers play by or primetime TV? Are your life tenets a mix of all of the above and a bit of 'if it feels good
Run Life's Race With Anticipation


How do you look forward to the year ahead? Is it with anticipation, or dread of another year of daily struggle?
Satan Loves it When We Fight


He loves it when he sees Christians being unkind. His pleasure is doubled when they are unkind to other Christians.
Submit to Your Husband


The opening verse of 1 Peter chapter three says to "be submissive to your husbands." This phrase causes outbursts of indignation in the most quiet and reserved of women.
This is Happiness


It was one of those days when I was depressed and discontented. What answers would I find in the Bible?
To Forgive a Crime


Do we forgive a guilty person even though there is no remorse?
Trouble


Plans for the future are very easily destroyed. Trouble. We are never promised that life will be easy. In fact the Bible says that there will be trouble in this world.
Two Tales of Forgiveness


These two women had much for which to be thankful. They loved much because they were forgiven much.
What Do I Do About Envy ?


Do you look at someone with a bigger house, a great job, or the perfect family and wish you were as fortunate? It isn't a good feeling.
Why So Needy ?


I hate the feeling of being needy. Why do I feel the nagging notion that something else will make me happy? What do I do about it?
Worry and What to Do


Chronic worry affects our physical well being, interferes with appetite, destroys relationships, interferes with sleep and job performance. It causes fatigue, headaches, and stomachaches. The Bible tells us not to worry.
Editor's Picks Articles
Top Ten Articles
Previous Features
Site Map
Follow @LynneChapman
Tweet
Content copyright © 2018 by . All rights reserved.
This content was written by . If you wish to use this content in any manner, you need written permission.
Contact Lynne Chapman for details.